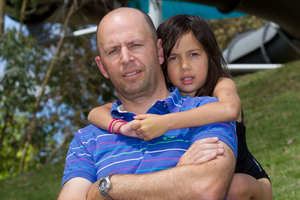 Parents have been stopped from "tandem" riding with their young children down hydroslides at Auckland aquatic centres.
One bemused parent, Michael Pleciak, was told by Mt Albert Aquatic Centre lifeguards on Saturday that his daughter Eva, 6, could not use the slide because it was too dangerous for anyone under 8, even if they are sliding with an adult.
"It is ridiculous," he said.
"Eva has been on that slide for a month.
"She had a nervous start and I was accompanying her down as all parents do and she got her courage up.
"She has gone down at least half a dozen times with her 8-year-old sister or me.
"Riding the slide is her treat after swimming lessons and we want our kids to gain water confidence."
Mr Pleciak said other parents and their children were disappointed at being turned away and lifeguards looked embarrassed as they passed on the message.
The pool belongs to the Mt Albert Grammar Community Swimming Pool Trust and is operated by the Community Leisure Management company (CML), under the supervision of Auckland Council.
Pool manager Paul Kite said Eva missed her treat because of confusion between a no-tandem rule from Auckland Council health and safety and the aquatic industry standard of requiring children under 5 to be within arm's reach at all times.
He said 5- to 8-year-olds were allowed on the slide providing their parents or caregiver were at the bottom of the slide supervising them.
"It means, unfortunately, that mums and dads cannot go down the slide with their kids between their legs. Under 5-year-olds won't be allowed to go down on their own.
"Over the years I've seen thousands of parents and toddlers going down the slide. I've been down it with my three boys when they were from about 6 months on."
Mr Kite said accidents and injuries from tandem riding at any age were minimal compared with the numbers going down the slides.
He hoped that the rule could be relaxed at Mt Albert because it had modified the slide's design to take out the big speed drop in order to make it user-friendly to parents with youngsters.
Council recreation facilities manager Rob McGee said the rule against doubling up had been brought in at council-run centres - West Wave, Massey Park and Lagoon Leisure and Fitness Centre in Panmure.
Non-council pools which have hydro slides designed for thrills - at Parakai and Waiwera - insist all children under 8 are actively supervised by a caregiver.
The council said the rule was recommended by the Ministry of Business, Innovation and Employment.
However, a ministry spokesman could not confirm the reason.
"Usually, we don't have mandatory rules, though we expect a certain level of safety and the council to develop that."