Threats to close them miss the point; they are places where cultural capital is built up and lent out.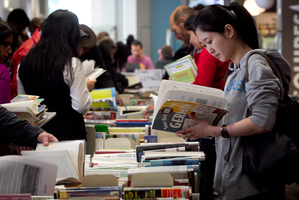 They installed a new self-checkout machine at my local library. It happened in October but I noticed it only a few weeks ago. That's because I make a habit of shunning it in favour of taking my books to the desk to be issued by one of the librarians.
The old machine scanned barcodes, like the one at the supermarket checkout; this new one, introduced to bring all the new city's libraries into line, uses radio frequency. You lay your items on a scanning pad and the machine electronically inhales all the details. It can do several items at a time while librarians look on, perhaps trying not to think about their jobs disappearing.
Or their library. That was the prospect raised by Mayor Len Brown in September last year: Grey Lynn and Mahurangi libraries were reported as being "marked for closure", as part of a bid to trim budgets by 3 per cent.
The next day, Brown was backpedalling furiously; perhaps the mayoral phone had run red-hot in the meantime. For now at least, the two libraries are safe, but after the local body elections in October, who knows?
To spend a few hours in the library last week was to contemplate what was at stake. I took up a position at one of the tables in part of the handsome 1924 Georgian building I'd never been in - I usually hang round the biography and travel shelves - so the titles within arm's length on either side were intriguingly unfamiliar. In Mussel Poachers of Orere Point, former fisheries officer Duncan Chisholm was telling a few yarns about catching crooks. I liked the bit about his hiring "a couple of burly Maori chaps who had been bouncers at the Gluepot ... Jim's imposing presence and direct manner seemed to have a calming effect on hotheads". On the other side, an American book called Nice House confirmed that the appalling interior decorating on sitcom sets is actually modelled on real life.
At the table next to me a Pasifika teenage girl had her nose in a novel. She had no bag and no apparent study purpose. The airconditioned library was a cool refuge from the fierce day and she remained motionlessly engrossed the whole time I was there.
From the other end of the building I could hear the contented gurgling of a baby whose parents were ferreting through the shelves for books for their excited toddler.
British columnist Caitlin Moran described libraries as "cathedrals of the mind; hospitals of the soul; theme parks of the imagination", and noted that they were "the only sheltered public spaces where you are not a consumer, but a citizen".
That probably wouldn't have cut much ice with brewery magnate Doug Myers, as he was in 1998 when he wrote in these pages that it was of no value to him if someone else read a book.
That comment is easier to make if you grew up in a house full of books, as Myers did, and the teenager at the next table very probably didn't. Amendments to the Local Government Act last year solidified the idea that councils have no business funding cultural life.
It was always the working-class who pushed for libraries because they couldn't take knowledge for granted: the famous Linen Hall Library in Belfast, which people paid to belong to, was formed by artisans, not merchants. Here, the local branch of the Labour Party asked the council to schedule the opening of the Grey Lynn Library on a Saturday afternoon so as to "[afford] Workers the opportunity of being present on that important occasion".
Waitemata Community Board member Rob Thomas, who is vowing to defend the library, is enthusiastic about the need to "manage the growth of services throughout the inner city while keeping the cost down". One option being explored is placing self-service book kiosks at transport hubs.
But it's hard not to wonder whether it's really about the books. In an age when the latest bestseller can be downloaded to your smartphone, content isn't everything. If we think of libraries as places where intellectual property is stored for people to access for free, it becomes easy to see it as a waste of public money.
But if you see it as a place where cultural capital is built up and lent out - at zero interest - it starts to look more like a treasure trove than an expense.