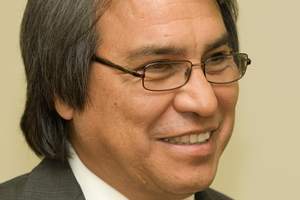 The decision to deny Maori guaranteed representation on Auckland's Super City council may prove a blot on what the Prime Minister yesterday described as his Government's leading record on indigenous people's rights.
The visiting United Nations special rapporteur on indigenous human rights, James Anaya, yesterday began a week of meetings with Government ministers, Maori groups and others as he follows up on issues previously reported on by his predecessor, Rodolfo Stavenhagen.
Professor Stavenhagen visited in 2005 and issued a scathing report in which he attacked the Labour Government's Foreshore and Seabed Act and the Treaty claims process.
Dr Anaya said yesterday that he was interested in advances made since his predecessor's visit and in identifying "some of the ongoing challenges and being able to make suggestions that might be useful".
Both Prime Minister John Key and Attorney-General Chris Finlayson, the architect of the National Government's replacement for the Foreshore and Seabed Act, were clearly expecting a more positive report card.
Mr Key said the discussion with Dr Anaya had gone well.
"He acknowledged there's been progress in New Zealand on some important issues ... Ultimately we'll wait and see his report."
However, Mr Key also said he set more store on New Zealanders' views on our race relations than those of the UN.
"New Zealand actually has a very well defined and established set of rules when it comes to dealing with indigenous rights and I think we're a leader in that field."
Mr Finlayson told the Herald he'd had a very positive meeting with Dr Anaya, who was familiar with the detail of New Zealand issues including the foreshore and seabed.
"If anyone comes in and looks at the history of the matter over the last seven or eight years since the Court of Appeal's decision in Ngati Apa, they'd see what great strides have been made."
Human Rights Commissioner Rosslyn Noonan said Dr Anaya's visit came at a time of significant developments for Maori as a result of the Maori Party's relationship with the National Party, but NZ still faced big race relations issues.
Maori made up just 5 per cent of local government representatives but were 14 per cent of the overall population.
Race Relations Commissioner Joris de Bres, who met Dr Anaya with Ms Noonan yesterday, said it was hoped he would discuss the issue of Maori representation on the new Auckland Council, "and perhaps encourage the new council when it's elected to revisit the issue and look at ways of picking up the option of Maori seats".
The Government last year chose to ignore the advice of the Royal Commission on Auckland Governance that the new council include three Maori seats - two elected by voters on the Maori roll and one appointed by a forum of iwi representatives.
Mr Rights
What is the United Nations special rapporteur on indigenous people?
An independent expert engaged by the UN Human Rights Council to monitor the situation of human rights and fundamental freedoms of indigenous people. The position is currently held by James Anaya, a professor of human rights law and policy at the University of Arizona.