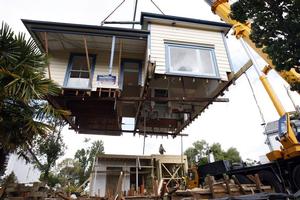 Heritage has come out on top in a $1 million house renovation project in Birkenhead.
A 95-year-old house was yesterday lifted by crane on to a newly built structure because North Shore City Council refused to let it be demolished or taken away.
The old building was of "marginal quality", said house removal contractor Stephen Larsen, who had earlier moved it forward on the section to make room for the new ground floor.
The old house's floor was cut off and steel beams were placed underneath to give a strong frame for lifting the 14- tonne weight by crane up to a height of 7m .
"I had a few butterflies watching it," said building contractor Kevin Knowles.
He said that making the old house the second storey was a solution to the council's insistence that as much of the original as possible be used in the project to create a modern family home.
"But most of the house will be new," he said. "It will be straighter and truer and will last another 100 years."
Mr Knowles said that using the old house would add between $30,000 and $50,000 to the costs of the renovations.
Project architect Jason Gibson said the original 100sq m house would become the bedrooms in a 250sq m building, which would have garaging, swimming pool and pavilion.
Despite its modern interior, the outside would have traditional weatherboards, windows, balcony and porch details.
The house is in Hinemoa St, Birkenhead Pt, - one of three Heritage Residential 3 zones in North Shore.
This year, the council tightened District Plan loopholes after protests that houses in the zones were substantially demolished in the course of additions and alterations.
Warwick Jones, of the Birkenhead Residents Association, said most residents applauded the development in a sensitive area.
"The owner has gone a certain way down the path of trying to match some heritage aspects to maintain the look and feel of the previous building.
"The owner made the best out of the situation and was willing to do more than what was required by law."
Mr Jones said the council had heeded residents' wishes to protect the three heritage neighbourhoods "before it is too late".
Next month, residents would be part of an Environment Court mediation over opposition to an apartment and shops development on a former service station site at 83 Hinemoa St.