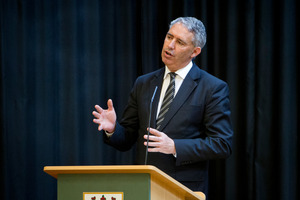 Returning Hastings mayor Lawrence Yule said moving Hawke's Bay towards council amalgamation would be his main focus over the next 12 months.
"I know I have been a lone voice on this (amalgamation) in terms of the other mayors, (former Napier mayor) Barbara Arnott was opposed, CHB mayor Peter Butler was opposed.
"It doesn't really change my view because at the end of the day it's what people want, it's a public decision."
Mr Yule said it was possible a merged Hawke's Bay council could be set up by 2015.
He said he understood smaller communities such as Wairoa and Central Hawke's Bay were worried they would lose their identity if consumed by a larger council.
"People have said that all along since this debate begun. If you look at the amalgamation of Havelock North into Hastings in 1989, people said the same thing but you would have to say that Havelock North still has its own identity."
Mr Yule said he was happy with the councillors who had been elected to the new Hastings District Council for the next three years.
"We have got three new councillors, Adrienne Pierce, Malcolm Dixon and George Lyons. We have had two retirements, Margaret Twigg and Ru Collin who didn't stand again.
"I am also very sad for (incumbent for Havelock North) Scott Henderson who lost his seat at this election. He had done a lot of good work as a councillor and was well respected in Havelock North. I suspect the new Havelock North-Hastings combined ward did not help his campaign."
Mr Yule said he was pleased with his own voting statistics, he received 11.049 votes which was slightly lower than the 2010 election.
Mr Yule received 11,049 votes, a majority of 5168 over his nearest mayoral challenger
Havelock North man Wayne Bradshaw (5887), with Simon Nixon third in the mayoral race (4704).
Mr Bradshaw and Mr Nixon will return to council after polling among the top eight candidates in the new Hastings-Havelock North Ward.
Also re-elected to that ward, incumbents Cynthina Bowers (8234), Sandra Hazelhurst (8070), Kevin Watkins (7996), Mr Bradshaw (7711), Mr Nixon (7353) and John Roil (6773). New councillors elected to the ward included Malcolm Dixon (7387) and Adrienne Pierce (6166).
Incumbent Scott Henderson did not achieve enough votes for re-election (5810) while incumbent Margaret Twigg did not seek re-election to the ward.
In the Heretaunga Ward, incumbent Rod Heaps returns (1860) and Goerge Lyons joins the council for the first time (1585) taking the seat left vacant by the departure of incumbent Ru Collin who did not stand for re-election.
In the rural Kahuranki Ward, incumbent Mick Lester (1021) returned to claim the single seat ahead of his challenger David Mackintosh (816).
Incumbents Henare O'Keefe and Jacoby Poulain did not have any challengers for the two seats in the Flaxmere Ward. Similarly, incumbent Tania Kerr stood unopposed in the rural Mohaka Ward.
In the Hastings Fluoride Referendum, which asked whether people wanted to keep
fluoride in the water supply or not, 9512 vote ``for'' and 56461 voted
``against''. The voter return for the referendum was 43.07 per cent, which was 22,228 voting papers, excluding voting papers in transit to the processing centre and special votes.
For more articles from this region, go to Hawkes Bay Today