A UK teen looks set to become the next big name in body building, and at just 17-years-old has already bagged the Mr Britain title.
Brad Willis earned himself the Mr Britain crown after only a year of bodybuilding training and now he has his eye set on becoming the next Mr Universe, a title famously held for four years by Arnold Schwarzenegger.
Willis was inspired to start his transformation after spending time at the gym with friends and going to watch a live bodybuilding competition.
Just over 2 years transformation.

Only recently I have found out what kind of training&dieting really makes me grow. Head down hood up and let's have another laugh in 2 years time at these recent photos! It's you who has got to do all the work but you also need the right people around you with great knowledge and support! @jackstokle1091 @gordonsbutchers @james_hatton_bsc onwards and upward #flex #bodybuilding #teenathlete #teenbodybuilding #transformation #ibfa #junior #worldchampion #2016
"Initially I went to the gym just to do general training." He told the Newcastle Evening Chronicle. "I went to watch a friend in a bodybuilding competition though and really enjoyed it and thought it was something I'd like to do."
"So I thought 'why not?', and I gave it a go." Willis said.
Maintaining his now 100kg frame is no easy task, with Willis having to consume six meals each day and having to do 45 minutes of cardio, prior to picking up the weights.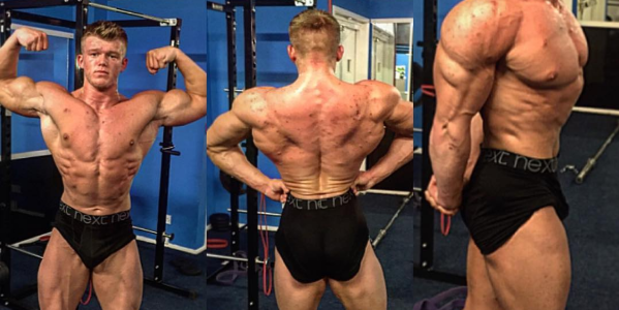 He is no stranger to fake tan either, making sure he is covered head-to-toe in order to make his figure appear as defined as possible.
Willis hopes all his hard work will be worth the pain and struggle, as he looks to qualify for the annual Mr Universe competition in October.