Well-known restaurateur, caterer and food writer Prue Leith shares one of her favourite recipes, Normandy tart. She says: "It's so classic, it just never, never fails. It's basically pastry on the outside, with this really almondy, creamy, rich filling, and sliced apple halves shoved into it. However badly you make it, it still tastes wonderful."
Bee-keeper Mary Case, from the Isle of Wight, says her Granny's honey and apple cake allows her to use her produce -- and that every batch of honey yields a different result.
Normandy tart
Made with a food processor
Servings: 8-10. Prep time: 45 mins plus chilling.
Cook time: 45 mins. Skill level: 2 (moderate)
For the pastry
225g plain flour
140g butter
1 egg
A pinch of salt
50g caster sugar
For the almond filling
170g butter
170g caster sugar
225g ground almonds
2 eggs
1 Tbsp calvados, kirsch, or whatever liqueur you like
A few drops almond essence
For the topping
3-5 eating apples, depending on size
Half a 340g jar of smooth apricot jam, warmed with 1 Tbsp water to a thick syrup
Set the oven at 200C and put a metal tray in it to heat.
Whizz everything for the pastry together until the mixture forms a ball. Roll out between two sheets of polythene or baking paper until big enough to line a 25cm flan ring. Chill for 30 minutes. If the dish is porcelain, bake blind; if metal, don't bother. To bake blind, line the pastry-lined flan ring with baking paper and fill with baking beans. Bake for 10 minutes, then remove the beans and paper and bake for a further 5-10 minutes or until the pastry is light golden all over.
Whizz everything for the filling in the food processor (no need to wash the bowl after making the pastry), then spread in the flan case.
Peel the apples if you like, but no need to. Core them and cut in half from top to stalk end. Slice each half-apple finely, keeping the slices in order.
Arrange them on top of the filling.
Set the flan in the middle of the hot oven and bake for 15 minutes. Then paint with hot jam. Reduce the oven temperature to 180C and bake for half an hour or so, until the filling is firm and brown. Remove from the oven and give it another brush with the jam if you think it needs it. To serve: best cooled to tepid or room temperature without refrigeration.
If you make it in advance, freeze it and then reheat for 20 minutes at 180C and allow to cool. This will crisp up the pastry again.
Granny's honey & apple cake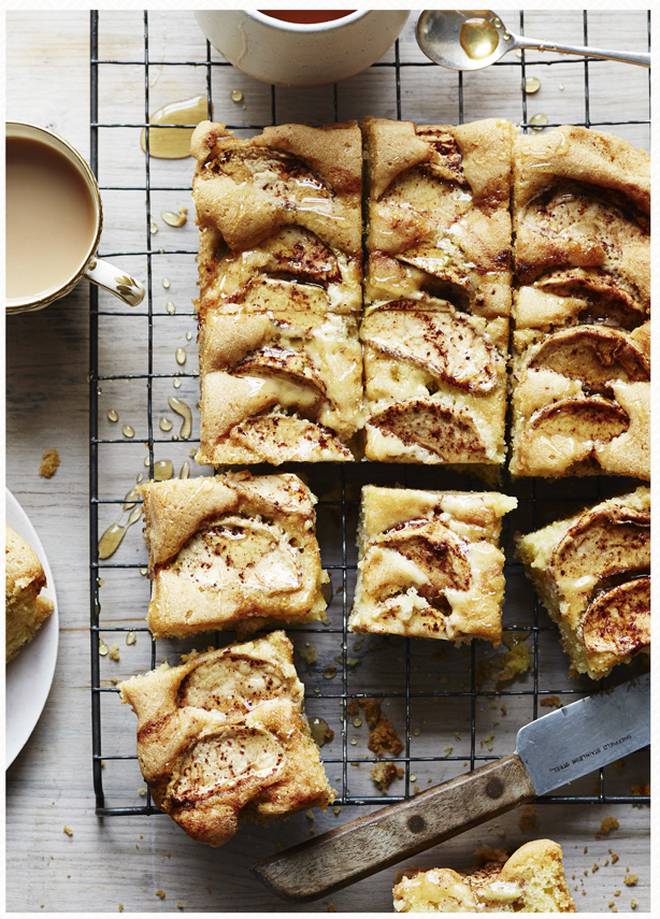 Servings: 8-12. Prep time: 20 mins
Cook time: 40-50 mins. Skill level: 1 (easy)
225g soft margarine, plus extra for greasing
4 cooking apples, peeled, cored and thickly sliced
80g clear honey, plus extra to drizzle
3 tsp ground cinnamon, heaped
225g caster sugar
275g self-raising flour
2 tsp baking powder, level
4 eggs
Pre-heat oven to 180C. Grease a 25cm x 35cm baking tin and line with baking paper.
Make the topping first. Put sliced apples in a bowl, then add honey and cinnamon and mix until apples are well coated. Set aside.
Using an electric mixer, beat margarine, sugar, flour, baking powder and eggs for 2 minutes on full speed. Pour into prepared tin, then lay the honey and cinnamon-covered apple slices in rows on top of the batter.
Bake on a baking sheet for 40-50 minutes or until golden and cooked through - test this by prodding the cake with a skewer: if it comes out clean, it's ready. Cover with tinfoil if the top is getting too brown.
Remove from the oven and allow to cool in its tin. Once cool, carefully lift out, remove the paper and place on a cooling rack. Slice before or after you do this, and drizzle generously with honey.
Extracted from The Really Quite Good British Cookbook (Echo Publishing/PQ Blackwell, $50).