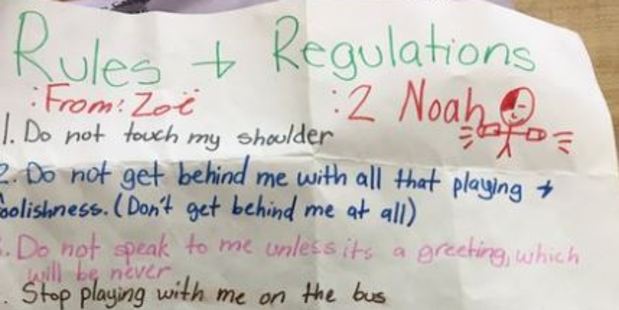 A 10-year-old girl, who deems herself too young to have a boyfriend, has laid down some ground rules for a classmate who has a crush on her. And the list is nothing short of hilarious.
Known as "Zoe", the fifth-grader's list was shared to Twitter by New Yorker "Denny" after her friend, Zoe's teacher, sent a snap of the child's "Rules and Regulations" for her young beau.
Handwritten in an array of colours, Zoe sets out six rules for her lovestruckcrush, including "Do not touch my shoulder" and tells him if he breaks any of the rules she will call her parents, her mother's friend, her "fake mom" and a janitor she claims to know.
My friend who's a 5th grade teacher just sent this to me! I'm dead!!! pic.twitter.com/FSDBxs9Vtq

— Denny Dimples (@WhosDenverJones) September 15, 2016
She tells him that if he ruins her day she'll "have to go to counselling".
Twitter users have responded by praising the young girl's bold move, with one follower tweeting that Zoe is her hero, and that she has "consent and boundaries down".
@WhosDenverJones @eTheHustla Zoe is my hero! she's got consent and boundaries down, communicates very clearly. No excuses, Noah

— Lindsay (@SunflowerRefele) September 16, 2016
@WhosDenverJones @whyofcorso you have to start laying ground rules early! #donottouchmyshoulder

— Bethany Young Hardy (@bethanyhardy) September 16, 2016
Another shared the list, telling her followers to "laminate it for all the men in your life."
Ladies print this and laminate it for all the men in your life and make some extra copies for all the men who aren't https://t.co/EUvUQTfBM1

— Caro (@socarolinesays) September 16, 2016
Denny also reveals that Noah reportedly likes Zoe because she's "the smartest girl in the class."
My friend said she spoke to Noah and he likes her cuz she's the smartest girl n the class https://t.co/45LxJdV6Pt

— Denny Dimples (@WhosDenverJones) September 15, 2016