In case you missed it: This was one of Lifestyle's most popular stories of 2016
A lovestruck teen desperate to contact a girl has been epically schooled by her father via a text exchange gone viral.
Posted to Imgur, a series of messages reveals a young man - with abominable spelling - pleading with a man named Robert to speak to his daughter Skylar.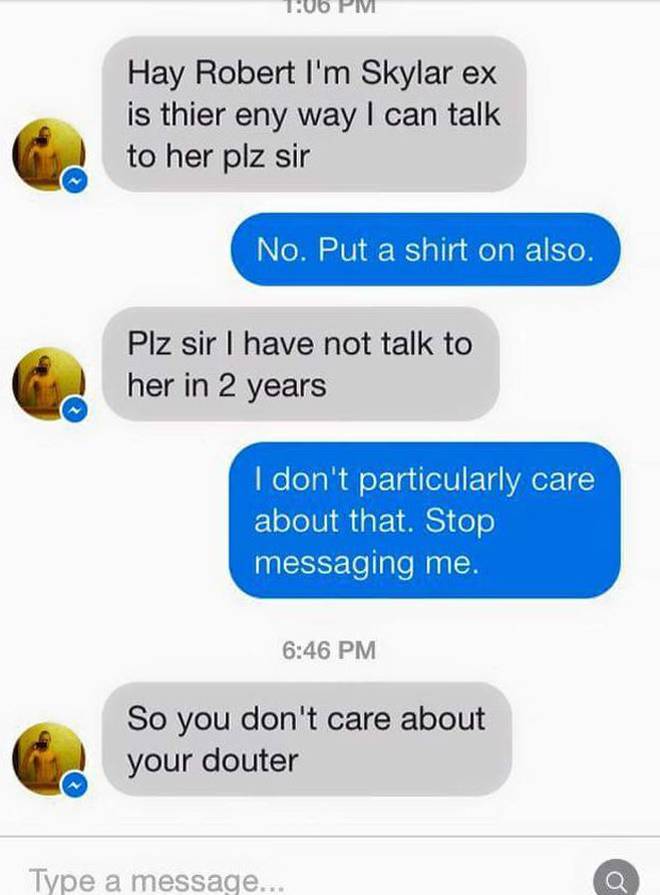 The persistent teen, 15-year-old Nathan Gray, writes: "Hay Robert I'm Skylar ex is thier eny way I can talk to her plz sir. [sic]"
Robert tells him no, and to "put a shirt on also" in reference to his topless selfie in his messenger profile.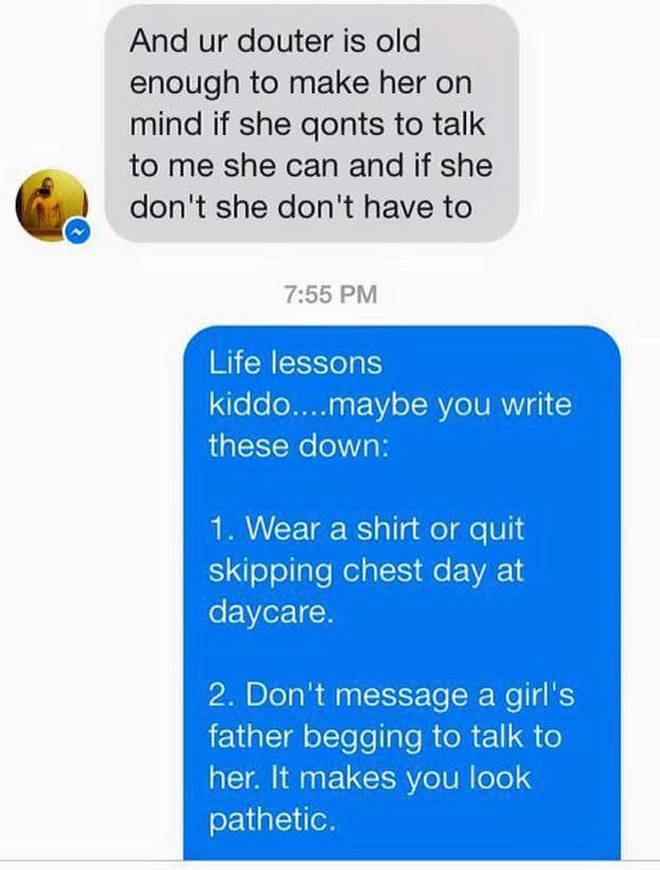 When Nathan begs again, telling Robert he hasn't spoken to Skylar in two years, he is told: "I don't particularly care about that. Stop messaging me."
But the teen continues with both his persistence and poor spelling: "So you don't care about your douter?"
At this point, Robert decides to lay down the law with the following points:
"Life lessons kiddo...maybe you write these down:
"1. Wear a shirt or quit skipping chest day at daycare.
"2. Don't message a girl's father begging to talk to her. It makes you look pathetic.
"3. Learn basic spelling and grammar. You'll never be taken seriously in life if you can't spell "hey" or "daughter" for example.
"4. If a grown a** man tells you that you can't speak to his daughter, the answer will not change regardless of how many times you ask.
"5. She was not your ex, as she never dated you (in the sense that you are barely old enough to wipe your own a**, let alone take a lady on a proper date).
"6. Even if she was your ex, it is for a reason. As you age and have real relationships that end, leave them in the past where they belong.
"7. NO!"
While most would have stopped there, the teen carries on, signing off with, "I'm 15 [I know] how to wipe my a** and I can take a young lady on a proper date ok."
So the exasperated father took to communicating in memes, sending an image of a pouting Dr Evil, from the movie Austin Powers, with the caption "how about no".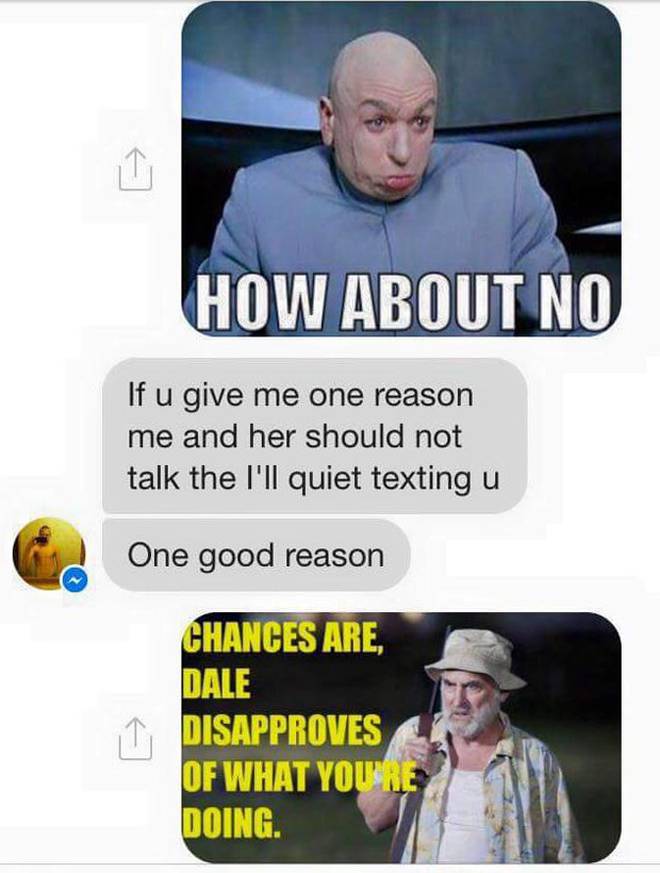 Yet the hilarious exchange continued, with the teen saying he would treat the girl "like the qween she is", before slinging a string of expletives.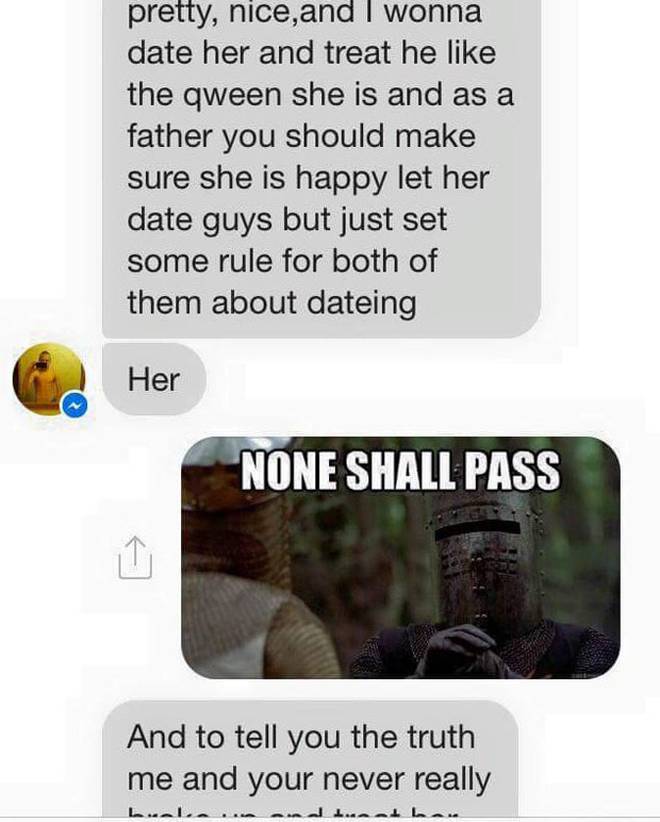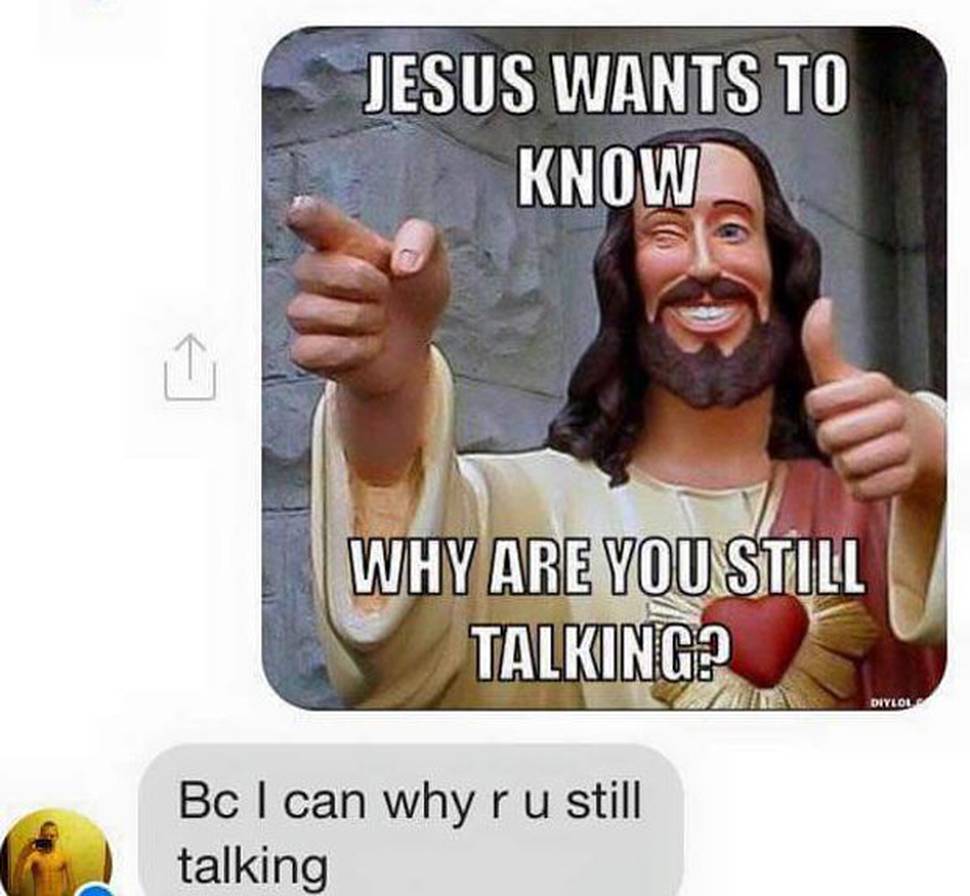 However, the father kept his cool and continued to send memes, until the teenager finally got the message.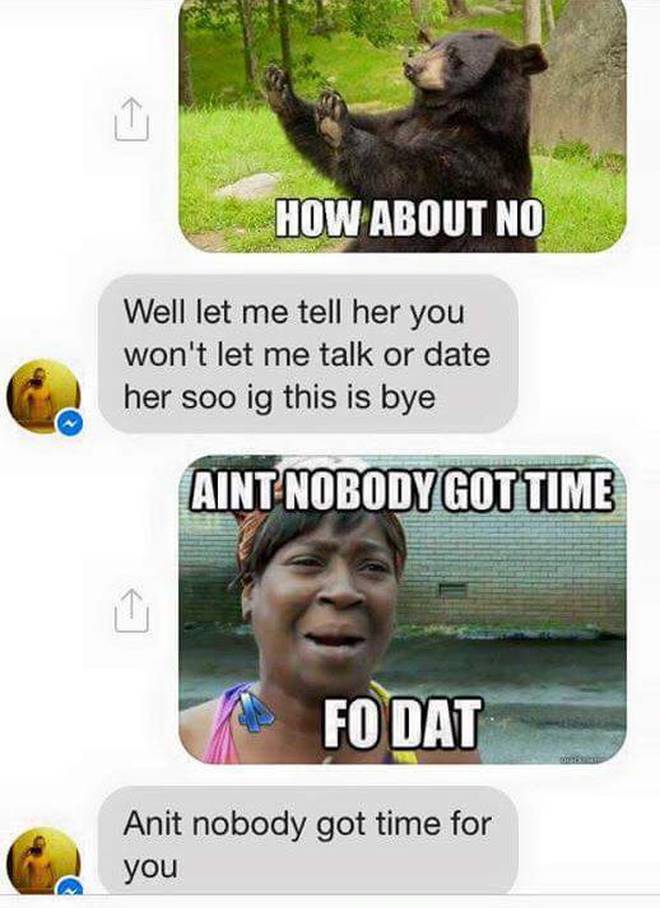 We're guessing the chances of a future reunion for Nathan and Skylar are slim to nil.
- nzherald.co.nz