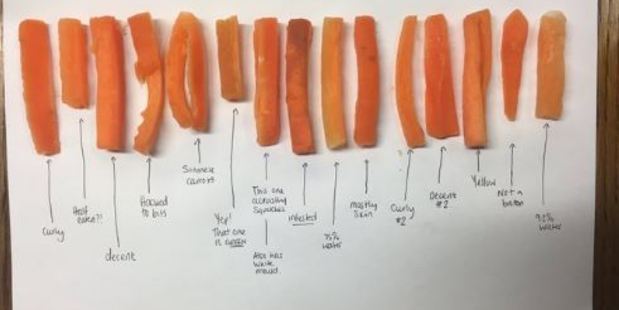 The social media manager for this supermarket chain just learned a valuable lesson - never lay down a challenge to someone with this much spare time on their hands.
Meet Aaron. He's a regular customer at the Tesco supermarket in Manchester, UK.
Aaron, a self-described "carrot aficionado" wasn't so pleased with a bag of carrots that he purchased at the supermarket earlier this week, so he got on social media to express his disappointment.
As some may know I am somewhat a carrot aficionado and it has to be said that these @Tesco batons are the WORST. pic.twitter.com/DhdhKw8dVM

— Aaron (@Aarondswift) July 4, 2016
Tesco responded (which is good, well done Tesco), but they made the mistake of asking Aaron to elaborate on the issue.
@Aarondswift Hi Aaron, I'm really sorry you don't enjoy our carrots :( Would you mind elaborating on the issue via DM? - Laura

— Tesco (@Tesco) July 4, 2016
READ MORE:
• Supermarket outsmarts scheming avocado shopper
It's fair to say that Aaron accepted the challenge, providing a representative cross sample of the carrot batons in the bag, with some helpful comments:
So @tesco asked me what was wrong with the carrots I just bought. I thought I'd take a representative cross sample. pic.twitter.com/7iQFIreJ4r

— Aaron (@Aarondswift) July 4, 2016
Tesco was suitably apologetic.
@Aarondswift Thanks for getting back to me. I'm really sorry about the poor quality of these carrots. 1/4

— Tesco (@Tesco) July 4, 2016
@Aarondswift I'd like to get you refunded and report this to our suppliers. Please can you DM me the following? 2/4

— Tesco (@Tesco) July 4, 2016
@milpol1 @Retailbarcode @Tesco of course! They're sending me money so I can go buy more and repeat the experiment.

— Aaron (@Aarondswift) July 4, 2016
Will Aaron's next bag of carrots be better? Will there be less "Siamese carrots" and more "decent" examples from the genre?
You'll just have to watch his Twitter feed to find out.