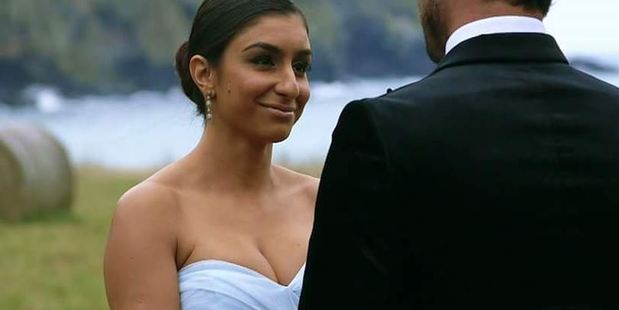 It was always going to be the dress Naz would come to cherish or hate.
Now, the bachelorette's dramatic gown - worn as she was whisked to a clifftop to have her heart broken - has become a topic of debate on Twitter.
While it may depend on whether you see the dress as white or a soft shade of blue, Twitter users have been left to ponder which bridal party look the feisty runner up was going for.
Why is Naz in a bridesmaid dress???? #TheBachelorNZ

— Lena (@superleeni) May 9, 2016
One Twitter user took the choice of dress as a clue to Mauger's final pick.
@Lukeurmyson believed Naz's gown was "a fairly decent hint" at the outcome.
Naz wearing a wedding dress is a fairly decent hint as to the outcome #TheBachelorNZ

— Chris (@Lukeurmyson) May 9, 2016
I love that Naz is just straight up wearing a wedding dress. Love it.

— Sam Baxter (@sambaxter) May 9, 2016
Naz is basically in a wedding dress already tbh

— Matt Armitage (@Matt_Armytage) May 9, 2016
READ MORE: • The Bachelor: Best, worst and recycled dresses
Others were just pleased to see Naz stayed true to her bachelorette style right till what became a bitter end.
Stripper heels and a 6th form ball dress - Naz is Nazzing till the very end

— nesh (@takapunani) May 9, 2016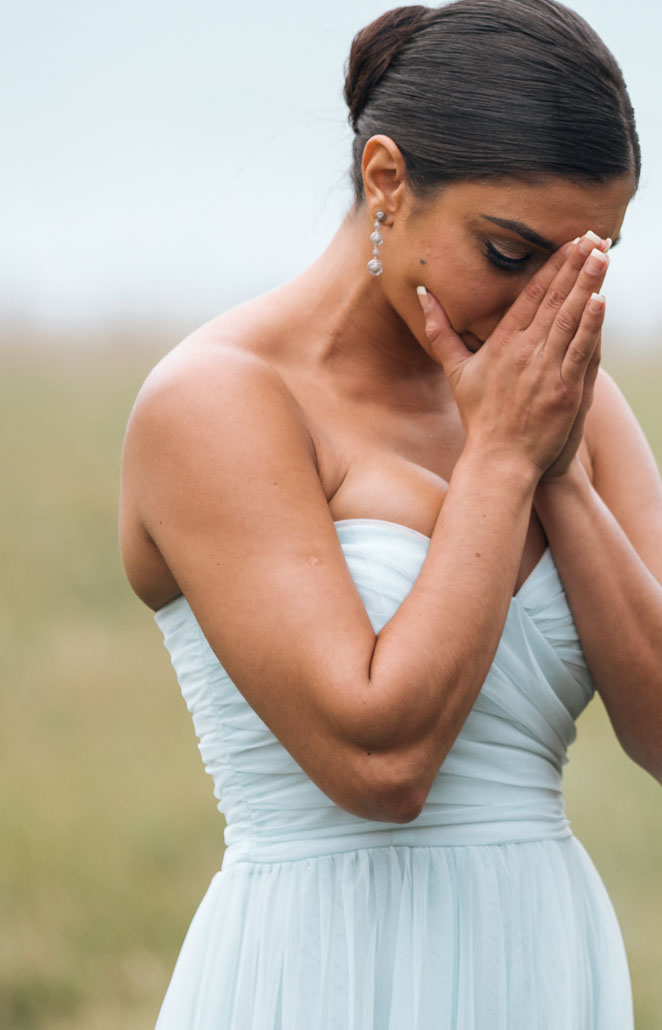 And @fitzngigs questioned how the jilted Naz faired in her fancy gown after being dumped on a clifftop.
Did Naz have to scale those cliffs in her fancy dress after being jilted or did she just lurk somewhere in the bushes? #thebachelorNZ

— Fitz n Giggles (@Fitzngigs) May 9, 2016
Naz's style file
Throughout the series, Naz's outfit choices were the subject of Twitter banter. Here are some of our favourites:
shout out to that mint bodycon with no knickers line. That takes skill Naz, that takes years of experience. Respect #thebachelornz

— AliceBrine (@AliceBrine) May 9, 2016
Naz is sitting on grass in a nude dress and I'm so concerned for her. She has VPL sorted but what about butt stains #thebachelornz

— Anny (@RUOKAnny) May 9, 2016
All the twitter girls with the slut shaming over Naz's dress. Feel the sisterhood much? Stahp! #TheBachelorNZ

— Athena macmillan (@athenanbubs) May 9, 2016
Not sure about a body con dress to meet the parents Naz ?? #TheBachelorNZ

— TheStyleInsider (@thestyleins) May 9, 2016
Naz is cold - good thing she wore sandals, an ill fitting strapless bra, exposed dress and no jacket to keep warm #TheBachelorNZ

— Jess (@_jsycar_) May 9, 2016