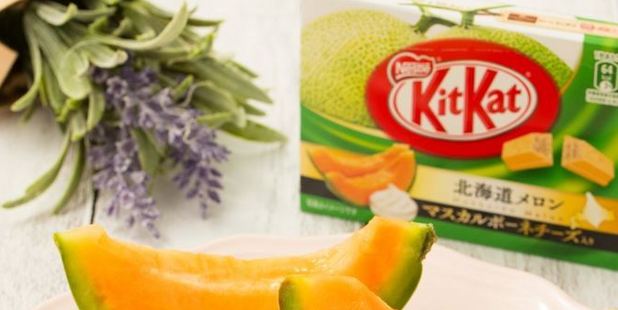 It's not the first time Kit Kat has experimented with weird flavours in Japan, but the latest addition to the chocolate bar range has some saying they've gone too far.
The latest flavour, Hokkaido melon with mascarpone cheese, has been described by Nestle as "melon and mascarpone cheese between sweet wafers covered in mild white chocolate."
"Hokkaido Watermelon with Mascarpone cheese" is on sale!
It's Limited Regional Products.
?https://t.co/JRuutMp9bY pic.twitter.com/LgdP1UOb6s

— KIT KAT Japan (@KITKATJapan) April 25, 2016
While other interesting Kit Kat flavours have hit the Japanese market before, including wasabi, matcha-green tea, and purple sweet potato, choc fans are calling the melon and cheese combo the worst offering yet.
Sweet toothed fans took to Twitter to share their thoughts.
READ MORE:
• Red burger: Japan's next fast food craze
• How would you like your pizza? Exploding, please.
• Bread or baby? Hilarious photo craze sweeping Twitter
MELON and MASCARPONE KIT KAT? I'm sorry what? Come again.....

— Lau' (@B3LL3W) May 3, 2016
Cheese Kit Kat?! That's one break I won't be having.

— Kelly. (@KelAnne_) May 3, 2016
@Japan_Australia I'm a big fan of the various flavours of Kit Kat that come out in Japan, but I might pass on melon and cheese... :P

— TonyDee (@tgR_tsuru) April 28, 2016
According to the Telegraph, Kit Kat chocolate bars have become a phenomenon in Japan, where more than 300 exotic flavours have been tested since the chocolates first went on sale there in 1973.
-nzherald.co.nz