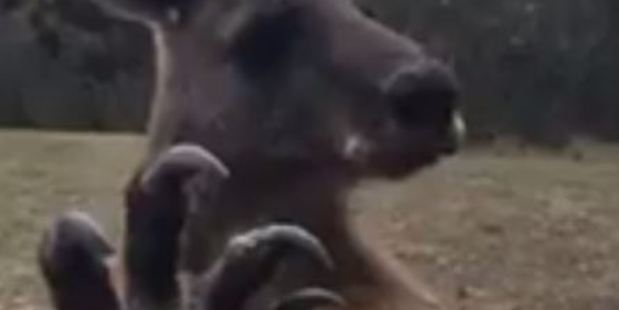 Welcome to Australia, a diabolical isolated island where none of the wildlife is innocent, and none of the people are safe.
Twitter user Cat Karskens yesterday posted a video of this particularly sinister kangaroo.
Observe for yourself ... if you dare.
So it turns out that kangaroos are what nightmares are made of pic.twitter.com/WsjAmmY1jS

— Cat Karskensanimal ™ (@saikocat) April 30, 2016
The little guy looks innocent at first, just lurking around the filmer's window ... until Bam! It holds a frozen outstretched claw in the air, like it's the Grim Reaper (or an avid Lady Gaga fan).
It then starts banging against the window, as if demanding to be let inside, before performing some sort of weird, macho-kangaroo crotch-grab.
Whatever it is, it reinforces the age-old fact: Aussie wildlife is terrifying as hell.
Let's not forget that just last week, a 21-year-old tradie was bitten on the penis by a redback spider while using a portaloo.
READ MORE:
Spider bite in sensitive spot lands man in hospital