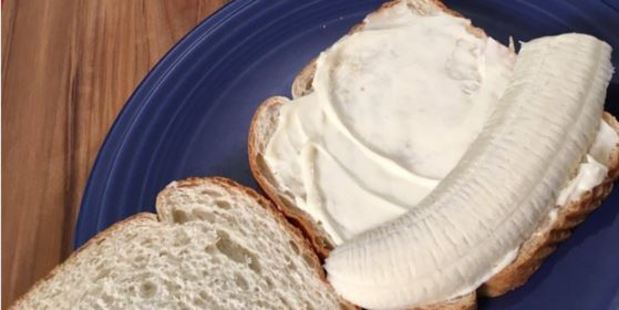 It's the sandwich filling that has the Twittersphere divided and in immense debate. Is this the most "horrific" sandwich filling ever?
Dale Earnhardt Jr, who is a professional car driver in the USA, decided to post a photo of his favourite sandwich. No big deal, right? Wrong.
Because his humble snack was met with disgust and horror, with some social media users saying the filling would make them "want to barf".
So what did he put on the two slices to prompt such outrage? Try banana and mayonnaise.
Making my favorite sandwich. I swear it's delicious. @Hellmanns pic.twitter.com/sK5XeHxVi9

— Dale Earnhardt Jr. (@DaleJr) April 5, 2016
The questionable combo has been met with disgust, with one user saying the idea was "horrific", and making another feel "nauseous".
My man, this made me nauseous. RT @DaleJr: Making my favorite sandwich. I swear it's delicious. @Hellmanns pic.twitter.com/b4lOCPQUoo

— Helvito's Way (@Helvisimo) April 5, 2016
Despite the criticism, some social media users decided to give the combo a try - and fell in love with the result.
@DaleJr my youngest said that sandwich sounded YUCK but had to try it... The outcome was he LOVED IT!!!! pic.twitter.com/mank9e6LXu

— Katie Rubarth (@rubarth3) April 5, 2016
But the 41-year-old car racing pro has turned the buzz around his banana sandwich in to a quest to fight world hunger.
After receiving many tweets from those who liked, and even hated his combo, Mr Earnhardt decided to ride the wave and channel the conversation into a positive project.
"The whole thing got me thinking that whether you like the sandwich or not, perhaps we could make something universally positive from this," he said on Twitter.
Launching a two-week awareness campaign, Mr Earnhardt hopes to raise money for the fight against child hunger in America.
Didn't like my sandwich? I don't hate you. Forget about it and let's feed some hungry kids. I'll match up to $50k. https://t.co/iMLnstx7ga

— Dale Earnhardt Jr. (@DaleJr) April 7, 2016
Driving like-minded social media users to his website, Mr Earnhardt said the proceeds would go directly to charity 'Blessings in a Backpack', who provided food on the weekends for schoolchildren across the US who might otherwise go hungry.
Mr Earnhardt said that he would match up to $US50,000 in donations.
Donations can be placed until April 23, 2016.
- news.com.au