Valentine's Day is just around the corner, so spoil yourself.
Love is in the air with the most romantic day of the year, Valentine's Day, almost on our doorstep. One of the easiest ways to say, "I love you" is with a special gift.
Traditionally, star-crossed lovers have given each other chocolates, heart-felt cards and flowers. But this year, why not up the ante a little and spoil your loved one with a stylish gift of the sartorial variety instead?
Finding the right "something" can be tricky, to say the least. So take the stress out of buying with my chic Valentine's Day gift guide for him and for her.
Put the va-va-voom back into date night with Trish Peng's gorgeous Orchid dress in shocking pink. This strapless dress with sweetheart neckline will knock everyone dead.
I love its dramatic appeal.
Every day will feel like Valentine's Day with these fabulous Prada Graphic sandals. Don't have a partner? Why not treat yourself? You deserve it.
Get the perfect rosy hue of love with Bobbi Brown's Blush in Pale Pink.
Valentine's Day is the ultimate time to get engaged. Meadowlark's Art Deco-inspired Kite Engagement Ring lets the love (and diamonds) shine on.
Sweep her off her feet with this DVF Twilight bag from Runway shoes.
Karen Walker's Moon Disco sunglasses will up the glam factor at any event.
She'll only have eyes for you with these covetable sunnies.
Spice up the night with Heidi Klum Intimates red lingerie set, a sure-fire way to get hearts racing.
Be my Valentine with Karen Walker's Mini Exploding Hearts Necklace, or add a 50s-style, ladylike touch with Dior's Tribale earrings.
Sass and Bide's Good Fortune double wrap belt is must-have accessory that will jazz up any look.
Get the perfect kissable pout with MAC Editorial Reds PRO Lip Palette, featuring all the trusty faves: Lady Danger, Ruby Woo, Russian Red MAC Red, On Hold and Dare You.
For the girls
1
Prada Graphic sandals $1990
2
Bobbi Brown blush in pale pink $59
3
Meadowlark Kite engagement ring $3029 (9ct Gold with morganite and white diamonds)
4
Sass & Bide Good Fortune double wrap belt $150 (in tan)
5
DFV Twilight bag from Runway Shoes, $490
6
Karen Walker Moon Disco sunglasses, $365
7
Karen Walker Mini Exploding Hearts necklace $739
8
Dior's Tribale earrings $750
9
MAC Editorial Reds PRO Lip Palette $80
10
'A Corps Perdu' Demi Wire Bra $109.95 (in Scarlet Sage)
11
'A Corps Perdu' Bikini $54.95 (in Scarlet Sage) Both from Heidi Klum Intimates
And let's not forget the boys.
That special man in your life will love Crane Brothers' Icaro shirt in baby-blue gingham.
Deuce Generation Rodriguez's leather trainer is a practical, street-savvy choice for the urban man about town.
Easy to wear, Gubb & Mackie's Britten Airforce jacket is a stylish and comfortable piece he won't want to take off.
Barkers The Globetrotter Bag is the perfect leather carryall for those weekend escapes.
Roses are red and violets are blue but let's not forget the power of a good fragrance. Surprise him with Eight & Bob Cap d'Antibes.
The key to his heart and to dressing well is all about the details. Add flair with Alvar Rhodium Cufflinks from Alice Made This.
It's true that all you need is love but you can never go wrong if you opt for a stylish gift that's bound to please.
For the boys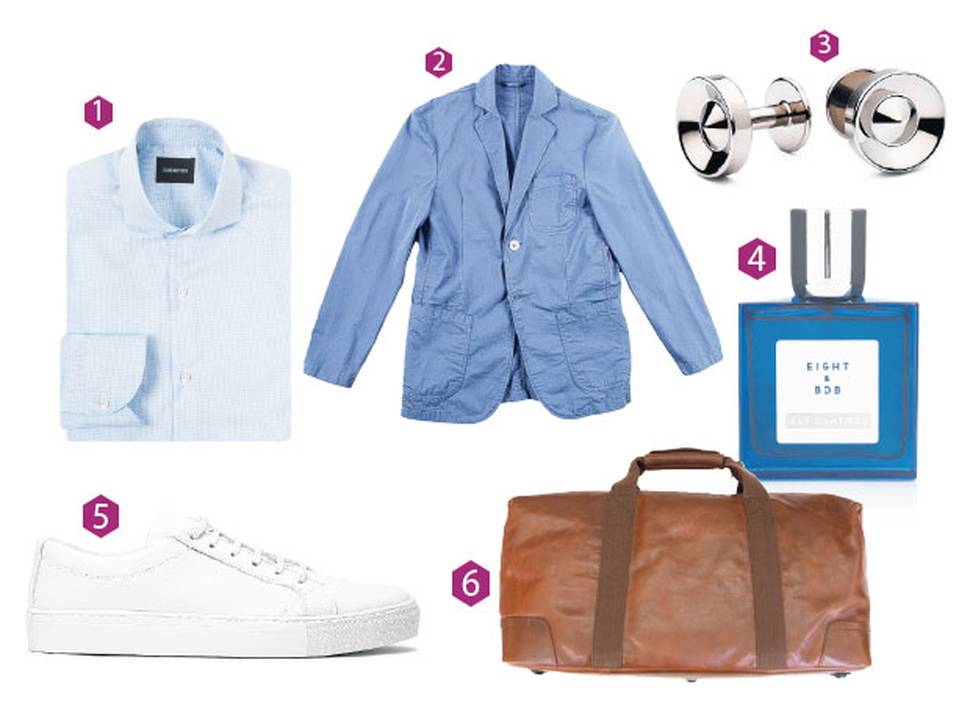 1
Crane Brothers Icaro shirt $295
2
Gubb & Mackie Britten Airforce jacket $300
3
Alice Made This Alvar Rhodium cufflinks $335 from Crane Bros
4
Eight & Bob Cap d'Antibes from World $299 (100ml)
5
Deuce Generation Rodriguez Leather trainer $189.90 (in white)
6
Barkers The Globetrotter Leather Bag $399.99.
Stockists
• trishpeng.com
• prada.com
• bobbibrown.com.au
• meadowlark.co.nz
• gucci.com/au/home
• au.louisvuitton.com
• heidiklumintimates.co.nz
• karenwalkerjewellery.com
• dior.com
• sassandbide.com
• maccosmetics.com
• crane-brothers.com
• Deuce Generation available from merchant1948.co.nz
• gubbandmackie.com
• barkersonline.co.nz
• Eight & Bob Cap d'Antibes available from worldbrand.co.nz
• Alice Made This available from crane-brothers.com