During these summer days it's okay to be a bit of a white wine snob — but be warned, overchill and you'll kill the aromas, dull the flavours and ruin everything.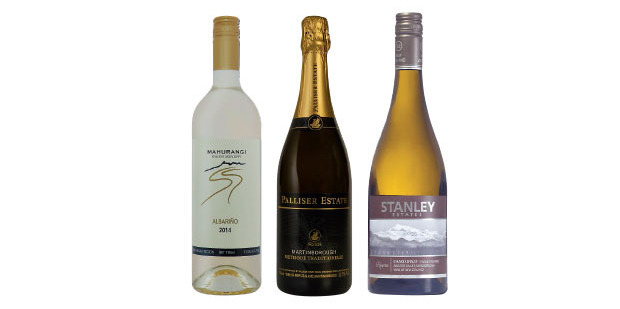 Mahurangi River Estate AlbariNo 2015
I'm really excited about Albarino and the potential it has to become a great Kiwi incarnation of a classic Spanish white. Mahurangi River's owners Shelley Trotter and Gary Heaven's has become a local favourite thanks to its floral intensity, white peach and lemony flavours and dry, minerally concentration on the finish. I love the chalky whiff of rain on hot stones that sneaks through too. An excellent white to drink with smoked seafood.
Price: $28
Palliser Martinborough Sauvignon Blanc 2015
Brace for a passionfruity punch as soon as you stick your nose in the glass. With grassy intensity, loads of lemon, lime and a burst of crushed basil, this wine represents the best that can be achieved from Martinborough sauvignon when winemaker Allan Johnson gets his hands on it. I love the gum-tingling texture, finely tuned citrus and herb notes that flex alongside its flinty finish. Gorgeous with mussel fritters.
Price: $27
Stanley Estates Reserve Marlborough Chardonnay 2014
Peaches and cream alert! If I had a dollar for every time I get asked, "Where are all the buttery chards at?" I'd have enough to buy a second-hand Suzuki Swift. The aromas of this Awatere Valley-crafted wine lean toward the roasted stonefruit spectrum, reaching out to a buttery, creamy mid-palate and textural finish with nutty notes. Try with tarragon and Dijon mustard chicken.
Price: $24
- Canvas
Yvonne Lorkin is a wine retailer, wine writer and member of the Wine Writers of NZ.