If you have anything you want to share with us at Life & Style online, flick me an email by clicking the link above. Share your thoughts with food friends on social media and follow my wining, dining and thriving with the Twitter link above or on Instagram @Nicky_Park_.
Free Better Burgers!
Tasty Britomart takeout joint, Better Burger, is giving away free burgers, fries and sodas this evening from 6pm till 9pm. All they kindly ask is that you make a donation to KidsCan, consider it to be the value of a lunch that would feed a school kid in New Zealand. The Better Burger suppliers who fill the beaut Butter Bakery buns, like JR Meats, Balle Brothers and Service Foods are donating their produce to the cause. KidsCan aims to create awareness about the basics that are lacking from our young people's lives and give them a better future. Learn more about the organisation here. Find out more about the recently opened Better Burger, nestled in next to Britomart Country Club, here.
A taste of spring at Mexico
This week we sat down to sample a selection of the tasty new morsels on offer this spring at ever-popular Mexico restaurants, now in eight spots around New Zealand. Executive chef Javier Carmona said the menu offers a refreshing start to the warmer months ahead. He promised to use fresh, seasonal and some unusual ingredients. We loved the tostaditas - a bite-sized crispy white corn disc topped with of heart of palm, corn crema, sesame, black cummin and chimichurri.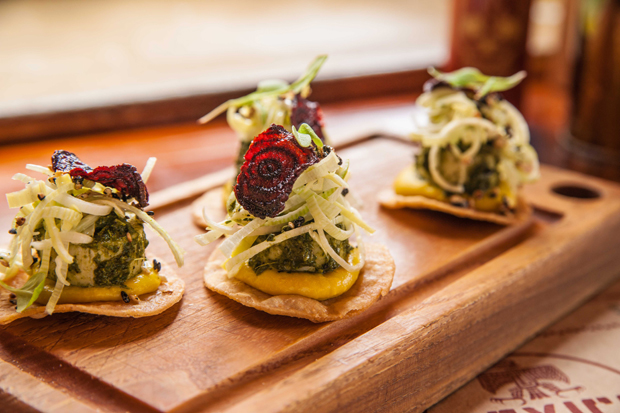 Tostaditas at Mexico.
Our other must order this season - the gorgeous tuna ceviche with pork crackling, chipotle, coriander, lime, watermelon and chili. Worth a mention, the appearance of health buzz food, kale - salty crisps sitting atop a soft taco filled with pan fried portobello mushrooms, feta and dried chilli marinade - proving this leafy green really has made it.
Happy Birthday Miss Clawdy's
The clever folk down at Miss Clawdy's are cashing in on the Instagram trend of photographing food. To celebrate their first birthday during the week of September 22 to 28 they are giving away creamy birthday cupcakes made by Karla Goodwin of Bluebells Bakery. There is a small catch. To get your mouth around the free treat (and we can vouch for their deliciousness) you have to order the cake, post a pic of it on Instagram (any filter is fine) with the hashtag #cakecurrency and tag @MissClawdyNZ. Show the staff the image when you pay and your dessert will be wiped off the bill. Happy Birthday to all!

Your designs could feature at WOW
Brancott Estate and World of WearableArt have teamed up with award winning furniture and lighting designer, environmentalist and artist, David Trubridge to create a New Zealand first - a piece of wearable artwork that will feature your personal input.
They're calling out for contributions to the collaboration - a photograph that depicts a memorable and personal 'first' - from running a marathon to renovating a first home. David will pick his favourites to weave into a piece of wearable artwork that will be revealed in Wellington on the 12th of October.
Find out more about the unique project here and enter your images before the October 6 via the Brancott Estate website.
My Food Bag coming to more Kiwi homes

A week's worth of free-range, quality ingredients delivered straight to your door with seasonal, nutritious and interesting recipes - you're well aware of the My Food Bag concept by now. The product, fronted by the popular MasterChef NZ winner Nadia Lim, is booming. After 18-months servicing Auckland, Hamilton, Welly and the Kapiti Coast, this this week the concept will spread its wings to the Bay of Plenty and Waikato regions. The first deliveries to Tauranga, the Mount and the wider Waikato areas will be made on Sunday 7 September. For prices and more info about My Food Bag visit their website here.
- www.nzherald.co.nz