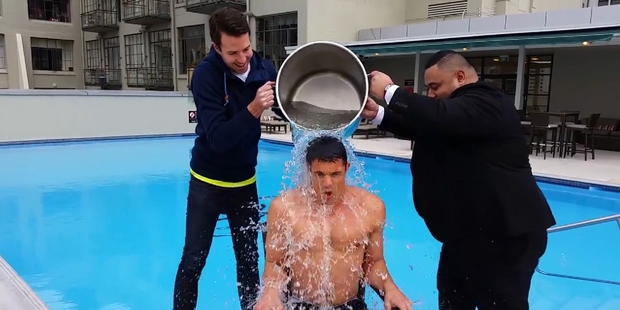 All Black Dan Carter has nominated three former and current teammates to douse themselves in freezing water for charity after filming himself doing the same.
The injured first five-eighths has posted a video on his Facebook page of him completing the ice bucket challenge beside what appears to be a glistening blue pool.
"Better late than never," he tells the camera. "You know who you are that's nominated me. Thanks a lot. I nominate Ali Williams, Jerome Kaino and Mils Muliaina."
Carter peels off his grey T-shirt and says, "Let's do it," before taking a seat at the pool edge. Two smiling aides then pour a container of freezing water slowly over his head. Carter grabs a second container, douses himself and performs an acrobatic backflip into the pool.
In a Facebook post he thanked people for their nominations and said he was looking forward to seeing Williams, Kaino and Muliaina "do it now or at least make a donation".
Carter's soaking follows a challenge by former Springbok Joost van der Westhuizen for the All Blacks and Wallabies to take the challenge. It raises awareness of motor neurone disease, which van der Westhuizen suffers from, and raises funds.
Kaino, a loose forward, is out of action for six weeks with an elbow injury and expected to miss this weekend's test against Argentina.
Muliaina is in Ireland after signing with Irish side Connacht and Williams is believed to be overseas.
The ice bucket challenge is a global social media phenomenon. It has raised $20 million in the United States for the motor neurone cause and thousands in New Zealand for the Motor Neurone Disease Association.
The challenge has attracted everyone from Hollywood celebrities, pop stars and international sports stars to business leaders and even a former US President, George W. Bush.
National manager Grant Diggle said the association was thrilled to have someone of Carter's profile taking part. More than $15,000 had been raised in the past fortnight.
The rules
*Fill a bucket (or larger container) with water and ice.
*Tip it over your head.
*Challenge three other people to take the ice bucket challenge within 48 hours.
*If nominees don't take the challenge within 48 hours they make a donation to a motor neurone disease charity.
Watch 10 of the hottest challenges here.