Little battler puts blaze horror and years of surgery behind him.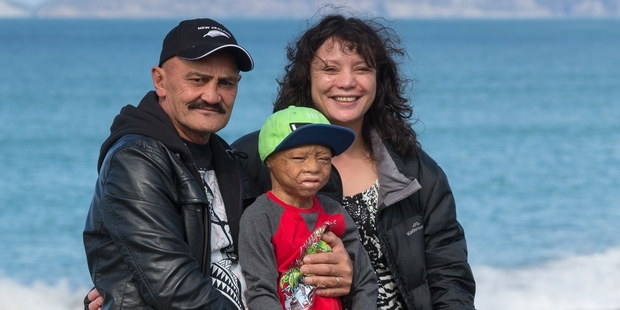 Today is a special day for a little boy who has miraculously emerged from the aftermath of a car fire that nearly took his life.
Three years ago 23-month-old Dukie King was fighting for survival with third-degree burns covering three quarters of his body.
Today, after years of treatment and dozens of surgeries, Dukie turns five. Just like any other child, he's looking forward to school and loving playing on his scooter.
"If you meet him, he'll touch your heart, because he just wants to be like everyone else," his mother, Andrea King, said.
Several Napier businesses have donated services so Dukie will have a special birthday to remember.
On August 13, 2011, Dukie was a few weeks away from his second birthday when he climbed unnoticed into his parents' normally locked car at their home in the small northern Hawke's Bay town of Mohaka.
King said she thought he must have got his hands on some paper and some matches, which resulted in an inferno and Dukie engulfed in the blaze.
Dukie was pulled from the burning car by his father, Nathan.
The toddler was taken by helicopter to Hawkes Bay Hospital before being flown to the specialist burn treatment unit at Auckland's Middlemore Hospital in a critical condition.
"I just thought, 'If you're going to go, Dukes, you're going to go, but I'm going to walk in and talk to you like I always do every day'," said Dukie's mum.
"It was pretty heart wrenching but I wouldn't refuse to go in like he was going to go."
His condition deteriorated several times.
Ten days after the fire, he was still listed as critically unstable.
But the little battler pulled through, spending the next six months in hospital as a model patient.
"If you met him today you'd be like, 'Wow, there are a lot of people out there who complain about nothing'," his mum said.
"He loves life ... he's out there and it's just choice." Dukie seemed to have suffered no psychological scars from his experience, she said.
"I was worried about nightmares, but Dukie just seems like he's had his accident, taken it on board and is just moving forward."
Today Dukie and his family was planning to visit the National Aquarium, play miniature golf, have lunch at a burger diner and dinner at a restaurant - all donated by businesses.
It will be a celebration for the whole family, including Dukie's seven siblings, who had also dealt with the incident over the past three years, King said.