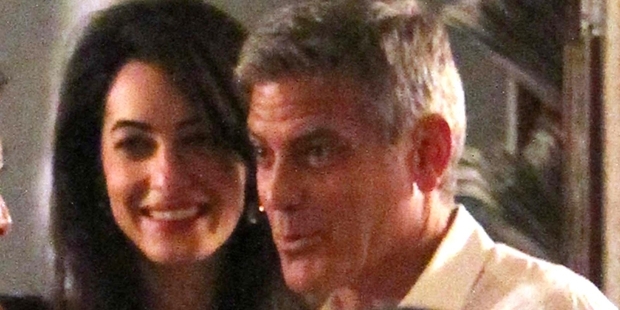 The countdown has begun for the much-awaited wedding of George Clooney and his high-flying fiancee, Amal Alamuddin. The couple posted their wedding banns at Chelsea Town Hall earlier this month, which must be displayed for 16 days before the big day.
After Brad and Angelina's secret wedding last Saturday, we are hoping for better things from a Clooney-Alamuddin bash. But what form will it take?
The bride: Amal Ramzi Alamuddin, 36, barrister. Born in Beirut and fluent in French and Arabic, she grew up in Britain and works at Doughty Street Chambers in London, specialising in human rights, international law and extradition. Clients include Wikileaks founder Julian Assange and Yulia Tymoshenko, the former prime minister of Ukraine.
The groom: George Timothy Clooney, 53, Oscar-winning actor. Born in Kentucky, he rose to fame as Dr Doug Ross in TV's ER, and made the leap to Hollywood, starring in films such as Ocean's Eleven and Gravity.
He is the only person to have been nominated for Academy Awards in six different categories. His humanitarian work includes focusing on the Darfur conflict.
The in-laws: Clooney's mother, Nina Bruce, was a beauty pageant queen and city councilwoman. His father, Nick, is a former TV and game-show host. Amal's mother, Baria, is the foreign editor of Arab newspaper Al Hayat and is an analyst on Middle Eastern affairs for the BBC and Sky. Amal's father, Ramzi, is a former university professor and ex-vice president of the American University of Beirut.
The venue: the couple considered Cincinatti, and even Downton Abbey's Highclere Castle before plumping for Italy. Clooney's Lake Como residence, Villa Oleandra, was initially thought likely but more recent rumours are Clooney has reportedly secured "an entire island" in Venice for the festivities.
The dress code: the bride's designer is said to be Oscar de la Renta, who dressed actress Katherine Heigl and former First Daughter Jenna Bush for their weddings. A team from Giorgio Armani's Milan office reportedly flew to Lake Como recently to fit Clooney and his male attendants.
The best man: likely to be Brad Pitt. As for bridesmaids, US actress Ellen Barkin threw Amal a hen party a few weeks ago.
The ceremony: Clooney was raised a strict Catholic, but a religious ceremony is unlikely. According to E! News, the couple will say "short but meaningful handwritten vows".
The guests: President Obama and First Lady Michelle are said to have been invited, although the White House won't comment.
Newlywed Angelina Jolie should also be there, and Pitt's ex-wife, Jennifer Aniston, is rumoured to be on the list (good luck with that table plan). Sandra Bullock, Julia Roberts, Bono and Matt Damon are invited, too, and Vogue's editor-in-chief, Anna Wintour, is said to be attending (and featuring the wedding in her magazine).
The first dance: Brides magazine reports Clooney has approached Lana Del Rey's managers about the possibility of her performing. Del Rey doesn't come cheap, though - she charged 1.5 million ($3 million) for three songs at the Kardashian nuptials.
The wedding list: the Jolie-Pitts have reportedly already bought the Clooneys a 125,000 gold-plated snowmobile as their present.
The honeymoon: the Clooneys have an exclusion zone around George's Lake Como villa until the 30th, which might suggest a honeymoon there.