The days are getting warmer so it's time to freshen up your recipes.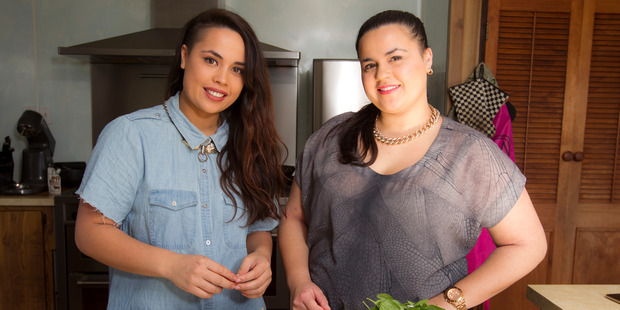 We love it when spring comes around. The days get longer, the air is still crisp and fresh but you can feel it starting to warm up. It feels like a time when everything seems new again, reborn after the colder winter months. We love the feeling of pulling out the clothes we have packed away over the frosty season and knowing it will be warm enough to incorporate them back into our regular wardrobe.
Soaking up the more readily available Vitamin D from the sunshine helps to revitalise us and inspires us to get from being snuggly in our onesies to feeling fresh and vibrant.
It is quite incredible how many amazing things we have had the opportunity to be a part of since winning MasterChef NZ in May. We are lucky if we get two or three days back in Maketu before we are off to do our next event. Being busy is not something we take for granted and we love jet-setting all over the country. But spring is a great catalyst to be reminded to take a deep breath and look after ourselves.
Being busy is a way of life for most and whether you have just won a reality cooking show, or you're an accountant or a really great parent it is often hard to remember to look after yourself the way you deserve. When we do get the chance to come home we love getting back into the kitchen and making meals that satisfy the stomach and the soul.
Having good sleeps and fuelling your body with the right food is so important for everybody and in between the decadent restaurant meals we enjoy while we are away from Maketu (research of course) we try to make ourselves healthy meals which must still taste delicious.
Eat foods that are fresh and rich with things that are good for you. We don't claim to be nutritionists or experts on the subject, we just want to share with you some of our go-to recipes we love when we are wanting to spring clean our diets.
At home, Kasey is the go-to juice lady. Concocting all kinds of magic juice potions that start your day light and healthy. One of her signature drinks is the Green Goodness juice which is packed with vitamins and tastes tangy, sweet and oh so fresh. I insist on drinking it from a cocktail glass because I'm fancy like that.
Rice paper sheets are a staple in our cupboard. You can wrap anything in them and it's fun if you get stations set up for everyone to make their own (which means less work for you in the kitchen). We think it is all about the freshness of the filling and the dipping sauce when it comes to eating these babies. Feel free to add more fish sauce or lime or whatever your taste buds prefer to the sauce. You can even leave the prawns out if you want a meat-free snack.
Venison is tasty and really lean and a great source of iron. It is a rich meat and it is so yummy when roasted with lots of rosemary and garlic. We love having this gorgeous meat with balsamic roasted beetroot - beetroot is really good for you with many nutritional benefits and has a delicious earthy flavour. Add a few dark green spinach leaves and the roasting juices from the beetroot to dress and you are in business.
Banana ice cream. Take a ripe banana, freeze it and blend it. We discovered this a few years ago and we have been obsessed ever since. Since finding out this magical way of making a quick dessert we have experimented with several different flavours. We
have added frozen berries, passionfruit, peanut butter, coconut, honey and Nutella (not so healthy but really good). Experiment with some of your favourite flavours.
Recipes
Try out Karena and Kasey Bird's delicious recipes at bite.co.nz - links below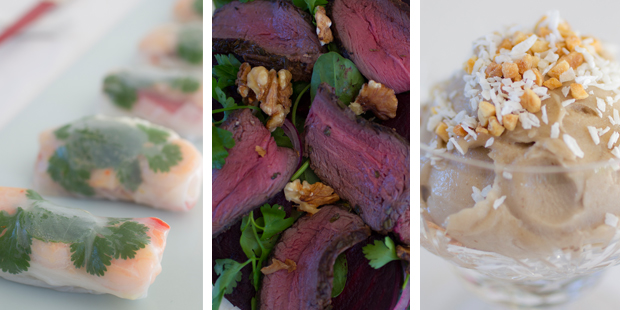 Photo / Michael Craig
• Rice paper rolls
• Venison and beetroot salad
• Banana ice cream