With New Zealand Fashion Week in full swing, NZ On Screen Content Director Irene Gardiner looks back at some of our classic TV fashion shows.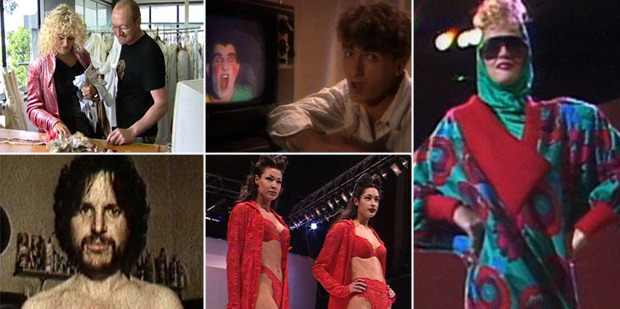 This year's NZ Fashion Week is being covered extensively on the web, as is the way of modern media. But fashion coverage on screen wasn't always so comprehensive.
From the mid 60s to the early 90s, the Benson and Hedges Fashion Design Awards was the big fashion event of the year. From the mid 80s, the show also screened live on television - a big once-a-year fashion event that launched modelling and design careers, and now provides a time capsule of the fashions of the year in question.
This "B&H" from 1986 featured Miss Universe New Zealand Lorraine Downes as a guest presenter, models included the teenage Rachel Hunter and future TV presenter Hilary Timmins, and - being the 80s - shoulder pads, bright colours and geometic patterns were in great abundance.
You can watch Benson and Hedges Fashion Design Awards 1986 here:

By the mid-90s, the Corbans Fashion Collections had become the big live and television fashion event of the year. The show was the brainchild of NZ Fashion Week boss Dame Pieter Stewart, and showcased the labels and designers of the moment. The 1995 show was narrated by Alison Mau and Craig Parker, and featured celebrity models Hinemoa Elder and Geeling Ng.
Watch Corbans Fashion Collections 1995 here:
As well as the big annual TV fashion shows, various one-off documentaries have been made over the years about our well-known fashion designers, including this Extraordinary Kiwis doco from 2005 - about a day in the life of Dame Trelise Cooper.
You can see Extraordinary Kiwis - Trelise Cooper here:
What look at NZ fashion on screen would be complete without a nod towards music video, in particular the work of Split Enz and the band's long-time costume and makeup designer Noel Crombie. The 1981 video for History Never Repeats is a particularly good example of Crombie's ground-breaking work.
Watch History Never Repeats here:
And, last but not least, something that is actually more anti-fashion than fashion, but it sure does have a lot of personal grooming and hairstyles. Chris Knox goes from long hair to short hair to no hair to facial hair to clean shaven, and everything in between, in the brilliant The Face of Fashion music video from 1990.
You can see The Face of Fashion here:
For a more comprehensive look at fashion on screen, check out NZ On Screen's full NZ Fashion On Screen collection.