Address:
21 Hurstmere Rd Takapuna
Phone:
(09) 929 279
Rating out of 10:
Food: 8, Service: 7, Value: 7, Ambience: 7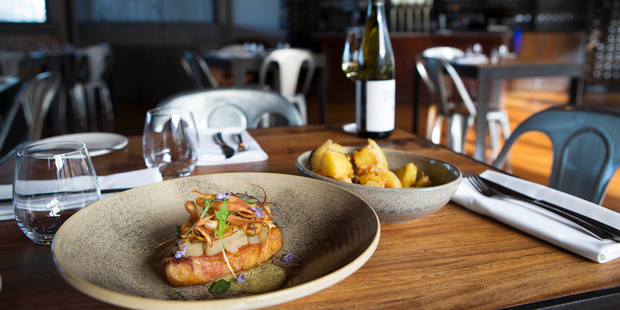 The biggest disincentives to healthy eating are the people who advocate healthy eating.
The smug self-satisfaction of those fashionistas who infest the media retailing their diets of skimmed quinoa, an arugula leaf and herbal tea turn this reader abruptly in the direction of the cholesterol-laden.
So it was with glee I spied one of the side dishes on The Commons' menu. This was "beef dripping agria potato bits" and it turned out to be just as I had hoped. Small pieces of potato turned into crisp but not greasy nuggets, irresistibly full of flavour and crunch. I'm convinced they did me a lot of good and will further my modelling career.
It's fair to point out, however, that there is enough on the menu here to suit the more obedient followers of the lean eating faith with my delicious starter of marinated trevally being a case in point.
We first visited The Commons for the purposes of this column not long after it opened a couple of years ago and, with others, praised it as a relief from the mediocrity which is characteristic of too many eating places in Takapuna.
The premises are a complex of five eating and drinking sites around a central courtyard off Hurstmere Rd, with the upstairs bistro being literally the top end. This is a pleasant, spacious dining area which overlooks the more casual premises below and provides a civilised setting for civilised food.
The menu is less tricksy than it was when an item listed simply as "tails" consisted of pork tails, scampi tails, sesame, pork scratching, caramelised parsnip and garlic aioli. But it remains a deceptively short and simple listing with the detail evident only when the dish arrives.
There are about half a dozen entries with no separate items as starters, varying sizes merely marking the difference.
As I mentioned, I started with the trevally which was elegantly presented as spiralled slivers of marinated fish, fresh and sparklingly dressed. Our other first course was the fish of the day, which was crisp-skinned snapper perfectly cooked and with a spiced tang.
The pork entry was from that list of once neglected cuts now back in favour, a piece of jowl, as rich and as meltingly tender as any slice of the more common pork belly. The accompaniment of celeriac and apple provided the required offset sharpness.
For my main course I opted for sirloin, again elegantly presented. The meat was neatly done medium rare but surprisingly lacking in flavour and almost overwhelmed by the smoked flavour of the onion and mushrooms that accompanied it.
The portions were not over-generous and side dishes were a good idea, with brussels sprouts with the ham hock appealing. But I didn't regret opting for the potatoes, which bulked out our meal in a most satisfying way.
Having yielded to temptation, we were able only to share one dessert, a chocolate assembly explained in some detail by the well-briefed waitress. It included a sort of homemade Aero of melting consistency and marshmallow, an agreeable range of textures underpinned by one dominant flavour.
The service, too, was agreeable, if lacking that element of polish and engagement which marks the very best establishments.
The wine list is a good one, as you would expect in a place which clearly has drinking patrons as its backbone.
After its welcome debut, The Commons has retained enough distinct character to keep it at the forefront of its Takapuna competitors.
Our meal: $193 for two first courses, two mains, one dessert and four glasses of wine.
Our wine: Plenty of variety in the list and plenty by the glass. The Mojo Coonawarra cabernet sauvignon was a fine example of a supple Australian red, while the Rua pinot noir showed its Central Otago pedigree and the Te Whare Ra D Marlborough riesling was as dry and crisp as we hoped.
Verdict: Interesting food in an interesting setting equally well suited to the quiet dinner or the big, convivial bash.