Best friends and good food make a celebration.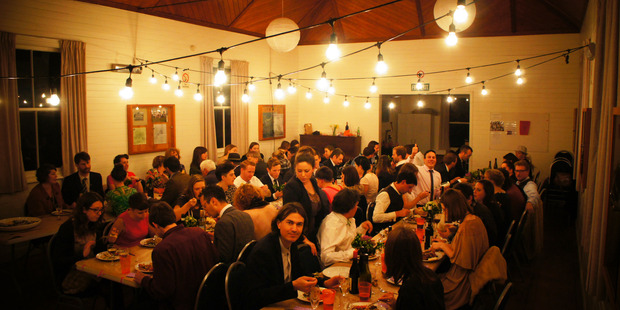 I used to work for a woman in her 50s who found herself only ever having great catch-ups with people at funerals. She was a sole-law practitioner and I did some admin work for her while I was studying. We would yarn the whole time and she said to me, after yet another funeral, "it's so important in life to celebrate happy occasions".
When my 30th birthday fell on a Saturday, I was definitely going to celebrate this happy occasion with a party. Some people seem to dread birthdays but I hear your 30s are great and I'm a big believer in any excuse for a party. I've spent the past couple of years throwing them for other people, so I was excited to do one for myself, with all my favourite people.
I tried to keep it simple and I tried to be organised, but as is so often the case, these things don't really ever come together until the last minute. When I was at Ti Point over Easter, we'd driven past the Whangateau Hall between Matakana and Leigh.
As soon as I saw this adorable little hall, surrounded by a picket fence, overlooking a bay next to a rugby field, I knew it would be perfect. With a holiday park a couple of houses down, it made for something resembling the most fun school camp ever.
In my mind I pictured my friends and family all dressed up, drinking bubbles as they arrived to live music, oysters as the only canape, a sit-down feast followed by a spectacular dessert, then dancing - lots of dancing. And that's pretty much how it unfolded.
The makeshift oyster bar was loaded with local Mahurangi oysters, and Hayden and Rachel Donnell - of one of my favourite bands, Great North - played while everyone mingled, drinking Prosecco cocktails. It was magical. My cousin donated a keg of craft beer and someone on Twitter agreed to lend me their set of festoon lights in exchange for baked goods. I then called in a couple of gigantic favours regarding the food.
Yael Shochat of Auckland restaurant Ima - thankfully - agreed to cook. She serves family-style shared dishes and she catered a wedding I co-ordinated earlier this year. The Middle Eastern flavours are perfect for sharing, so I was thrilled when she said yes.
We had a feast - slow-cooked lamb, fresh falafel, homemade hummus, a slaw loaded with herbs, Arabic rice, spiced cauliflower and roasted carrot salad with feta. How she managed to pull it all off in that tiny kitchen I'll never know. I was stealing falafel off
people's plates all through dinner, and everyone loved it.
Then there was dessert. I've been lucky enough to become friends with New Zealand's gelato genius Gianpaolo Grazioli and his wife Annarosa this year, and they made the trip north (despite me giving them the wrong address) with their gorgeous kiddies in tow.
A tiramisu cake with gold candles was utterly delicious, but the pink croquembouche tower filled with raspberries, and decorated with fresh flowers and handmade red lipsticks made out of chocolate was spectacular.
I felt very lucky to be surrounded by the best people, eating the best food, in a bright red and pink dress (a very generous gift), drinking bubbly, and dancing all night long.
Croquembouche for breakfast topped it all off and made the perfect start to the decade ahead.
Recipes
Try out Delaney Mes' delicious recipes at bite.co.nz - links below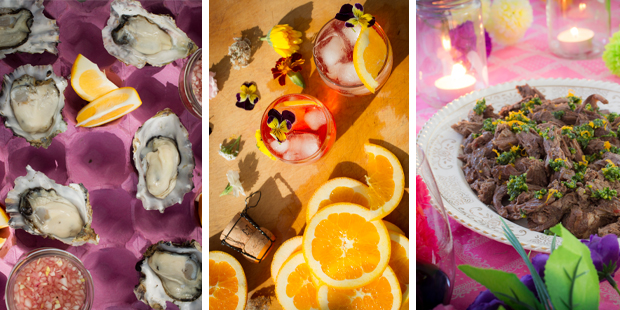 Photo / Michael Craig
• Oysters with Mignonette Dressing
• Feed-a-Crowd Slow-Cooked Lamb
• The Bittersweet Birthday Spritz
• Sunday Pancakes