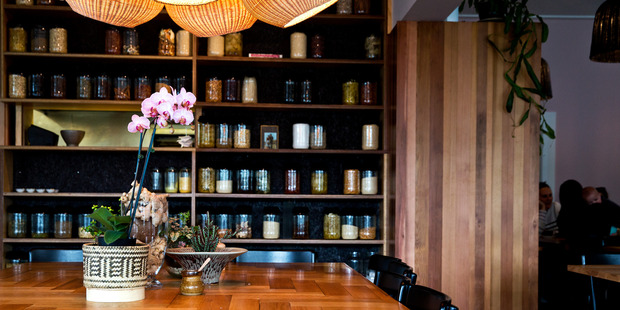 How do you say "pho"? Don't ask me. It's the name of the beef-broth-based noodle soup that is a staple of Vietnamese cuisine. But even if I could convey the pronunciation in print, my version of it would be risibly wrong: in three weeks in that marvellous country, my attempts at saying words in their language, in which tone affects meaning, frightened several children and had many adults in stitches.
There's a pronunciation audio file on Wikipedia that makes "pho" sound like "far" uttered as a question by a sleepy person with a mouthful of cotton wool. It will assuredly work at Bolaven - so will "foe", probably. If all else fails, just say "soup".
The pho, and the vibe, at Bolaven are Lao, not Vietnamese, of course. The cafe takes its name from an elevated plateau in the south of Laos where the colonial French first planted coffee so it's neatly symbolic of the mixture of European and Indochinese cuisine that the place specialises in.
It's been open only a few months, having taken over the spot occupied for years by Bowman's (the short-lived The Taste Plate closed abruptly in April).
And like Olaf's, reviewed last week, it has started opening in the evening (in Bolaven's case, Thursday to Saturday only).
The Facebook page (Bolavencafe) reveals a dedicated following at breakfast-brunch-lunch, when the classic offerings are supplemented by exotic alternatives such as sticky rice with fried eggs and jeow mak len (Lao tomato salsa), a Lao stew and that pho (which, for the record, is rich and fragrant, with beef both silky and tender). But like the Vietnamese Parkside in Mt Albert, it moves into full ethnic mode at night.
The plaster has been ripped from the brick walls, and the pale wood, dark chairs and clusters of cane lampshades make for an elegantly casual feel. A big sign on the wall says "hiew kaow", which evidently means hungry. That's a good enough mission statement, I suppose, though the dishes, in tasting plate sizes, won't deal to a trencherman appetite.
The menu, with four vego and six meat/fish options, is commendably short, and the waiting staff give good guidance on how much you should order. And the food as a whole was pretty good, even very good, although not notably original or exceptional.
Eggplant, grilled to a delicious semi-caramelised chewiness, is enlivened with lemongrass and ginger. A vegetable curry featuring sweet potato and beans is set off with the deliciously fragrant (but quite unmintlike) Vietnamese mint, though the curry is very mild-mannered, notwithstanding the waiter's opening warning that if you can't stand chilli you may be in the wrong place.
Peppery watercress lends bite to cubes of braised pork belly which come in a sticky sweet-soy sauce with a hint of aniseed. Popcorned crackling studs the greens. The steamed fish, which I had expected to be whole (it is the dearest dish on the menu), is a small bamboo leaf envelope containing cubes of fish with lemongrass and what I thought was ground coconut although the menu doesn't mention this.
This is steady, rather than stellar, food in nice surroundings; it would be churlish to find fault with any of it but there's nothing here to blow the socks off.
Our dessert options (they differ each night) sidestepped any Asian ideas: a crème brulee was headspinningly rich and a sticky date pudding was a superb date loaf sandwiching ice-cream and drenched with syrup. "This is more like it," the Professor said as she smacked my spoon out of the way.
• Pho $13; plates $13-$26
Cheers
There are no bars immediately near Bolaven if you want to meet for a drink before dinner. You could opt for the establishments mentioned in last week's Cheers - Scarlett Slimms and Lucky or De Post Belgian Beer Cafe in Mt Eden village - or head to Dominion Rd to see what it offers for a tipple. The Dominion is found on the corner of Dominion and Valley Rds. This spot was home to GPK until four years ago, but now it's a place for a quiet or slightly louder drink, with food. The Dominion has dining specials Tuesday to Sunday and bar manager Dave says the business' website is kept relatively up-to-date with what's on offer. On Tuesdays the pub has a quiz night from 7pm - teams can enter online until 4pm on the day.
• The Dominion, 234 Dominion Rd,
Mt Eden, ph (09) 623 2121, dominionbar.co.nz