Massage capsule uses water jets to pummel customers into slim shape.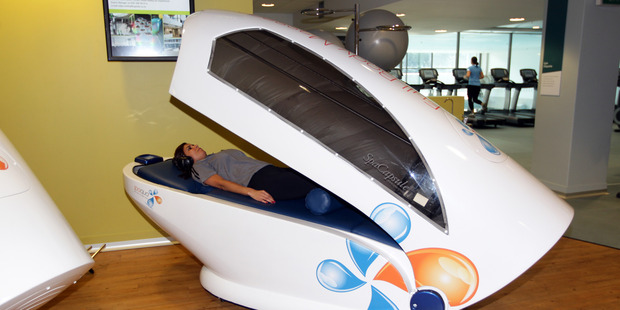 Celebrities and the well-heeled are turning to a new machine to win the fight with fat - but it comes at a price.
Radio host Jay Jay Harvey is among a host of Aucklanders sliding into a massage capsule to slim down.
The Spa Qua machine is a pod offering fully clothed customers a full body massage using 32 water jets to pummel the body.
There is 95 per cent pure oxygen in the pod, which owner Evan Seber says supports lymphatic drainage.
"The pulsation is very specific. It targets the areas where you want to lose weight," said Seber.
Harvey told the Herald on Sunday she tried the machine for about five weeks after getting a voucher as a birthday gift.
"When you're in the capsule, it feels like it's beating all the flab off you," she said.
"I generally go on for about six minutes where it targets my stomach and then I turn around and target my back and butt. I feel good afterwards."
Harvey has tightened her belt a notch, but she's not sure if the machine is the sole reason she has lost a few centimetres. She has also been doing Pilates, cut down on her alcohol and cut out carbs.
"I'm always trying new things because people always offer me new opportunities.
"Dom [Harvey, her husband] says you can't beat proper exercise but we're always looking for an easy way out, some of us busy girls."
I'd rather take a walk
It feels like an army of tiny men are stabbing me with tiny swords.
On my back, fully clothed, in a massage pod, a bag filled with 32 water jets is pummelling my body.
"Just give me a thumbs-up when it gets to the bottom of your boobs," says owner Evan Seber. I'm uncomfortable.
The stream of water starts gushing over my ankles and moves up my body - slow and not unpleasant - I give Seber the thumbs-up with gritted teeth.
The soft massage turns into a vigorous pelting - sting by sting.
Meditation music plays through headphones for "relaxation".
After 10 minutes, Seber signals for me to turn.
I lie face-down and face a microphone-looking instrument to pump oxygen into my body to support lymphatic drainage.
The walloping lasts about half an hour then I wrestle my way out of the pod, light-headed.
People on treadmills look amused, disdainful. They know how to fight the war on fat.
I think I'd rather join them instead.