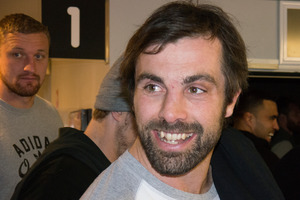 If All Black Conrad Smith becomes a father before dawn, there is a chance he may be able to don a black jersey for tonight's Bledisloe Cup match in Australia.
Smith rushed back to New Zealand early yesterday after a 2am call alerted him that his wife Lee-Ann was in labour with their first child, that was not due for another two weeks.
Coach Steve Hansen said there was a chance the 32-year-old could still fill his star midfield spot if baby Smith arrived in time for his father to get back by 2pm local time (4pm NZT) for the 8.05pm (10.05pm NZT) kick-off.
All Black management would not comment on the logistics of such a round trip yesterday, but judging by airport flight information there was a slim chance he could make it to ANZ Stadium in central Sydney for the record-breaking match against the Wallabies.
Wellington-based Smith would need to have an early start to catch the only flight departing New Zealand that would land before his deadline.
He'd need to leave his wifeand child's bedside at Wellington Hospital by 6am to check-in and board NZ406 departing Wellington at 7am.
If on schedule, Smith's flight would land in Auckland at 8am.
With no check-in baggage and some forgiving All Black fans as ground staff to fast-track him through customs he could make flight NZ103 departing Auckland International Airport at 9am.
That flight, Smith's last possible chance to make the game, lands at Sydney Airport at 10.30am local time (12.30pm NZT).
Accounting for a presumably busier terminal staffed by less-forgiving, Wallaby-supporting workers, it would likely take Smith until 12.30pm (2.30pm NZT) to make it through security.
Assuming the player would like to travel in the privacy of a taxi - rather than use public transport - and that he would likely hit traffic in the city, he could arrive at ANZ Stadium in central Sydney by 1.30pm.
Plenty of time to charge the cab to his All Black MasterCard and have stand-in Malakai Fekitoa pass his shirt back.