Citrus trees are groaning with produce so get juicing.
We love citrus and we are lucky enough to be surrounded by many lemon, lime and orange trees where we live. As kids, we picked oranges off the tree on the way to school and would suck on them along the way then pick a few more on the way home. One of the best things about being sick was the beautiful warm lemon honey drinks our mum would make us We'd fake sickness sometimes just so we would get one.
Citrus has many health benefits and a host of uses in the kitchen as it's great in sweet and savoury dishes. It crosses the boundaries of cuisines from East to West and it is something we can't live without when we are cooking.
Citrus is versatile and brings vitality and freshness to a dish. It can be in the starring role or one of the best supporting acts by a simple squeeze at the end of the dish.
This week, we have a few simple dishes to share. First up is a fresh lime ceviche with snapper. We love a really fresh ceviche so lots of lime juice is required for this one.
We serve this on corn chips which are a great way to serve ceviche at a party. The added crunch goes really nicely to add a different texture to the dish.
The second savoury offering is a quick and healthy lamb dish which can be whipped up in no time. Lemons are the feature citrus with lots of lemon zest and also some preserved lemons. This dish is served hot but is also really good cold. Leftovers are great for lunch the next day.
We couldn't have a sweet citrus dish without including some lemon curd, so for dessert we are serving up a super easy lemon trifle with a sponge that can be baked in 10 minutes.
This is a great recipe to keep on hand if you need to whip a dessert in no time (which happens in our house quite often).
Last but not least, we have a refreshing classic homemade orangeade, made from freshly squeezed oranges and topped off with sparkling water. This is the perfect refresher and handy to have when you have unexpected guests. So get juicing and put a little zest in your life with these beauties.
Handy household citrus tips
• To get odours out of wooden chopping boards or rolling pins, rub with a piece of lemon and leave to dry.
• If you have stained pots add water and half a lemon. Boil then scrub down to remove any marks.
• For a natural mozzy repellent, rub arms and legs with lemon or orange rinds.
• Ten seconds in the microwave can help when trying to juice citrus.
• Adding lemons to your garbage disposal can help minimise odours.
• Used dried orange peels to deter ants. Place these in areas where ants are coming in to your home.
Recipes
Try out Karena and Kasey Bird's delicious recipes at bite.co.nz - links below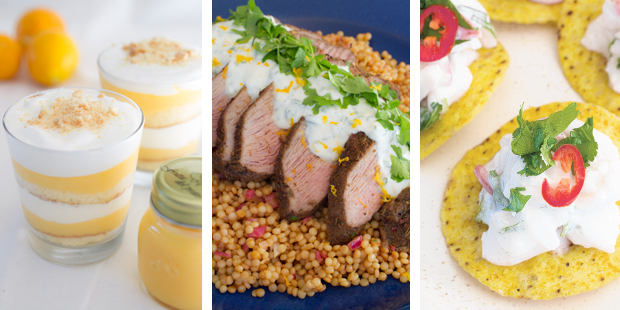 Photo / Michael Craig
• Classic Homemade Orangeade
• Lemon Curd Trifle
• Israeli Couscous with Lamb
• Lime Ceviche on Corn Chips