In honour of International Youth Day, Danielle Wright talks to young people volunteering their spare time to help their communities.
Auckland Council's I Am Auckland strategic action plan says if all the people aged under 25 in Auckland had their own city, it would be the second-largest in New Zealand. If the majority of these young people are half as community-minded as those we interviewed, we're in safe hands.
Here are some options for teens who are ready to step up and take responsibility in their communities, while helping themselves in the process.
Creating a Youth Movement
Nothing to do during the school holidays? Don't waste your time on video games - young people from around the country are giving up their time to help disabled children on holiday camps through Recreate NZ, which runs more than 120 adventure, recreational and social programmes and events each year for young people (aged 9-plus) with disabilities.
One volunteer, 16-year-old Sarah Mauer, became involved when her religious education programme required that each student do 30 hours of voluntary work. That 30 hours was completed on her first Recreate camp, but she loved it so much she continued to volunteer her time.
Her mother worked for the charity when Sarah was in primary school so she says she has always been around disabled children and has never looked at them as being different to her because they can do "most stuff".
"At first, a few of the kids are harder to understand - or they don't fully understand you - but, after a few days they do," says Sarah. "I love the whole thing. It teaches you so much and I've learnt to be patient because nothing can be rushed with the kids."
Sarah says the most surprising thing about the experience has been getting to know the disabled children and realising they're exactly like her. "They like the same stuff and enjoy the same activities - they're really cool. It's just like hanging out with a group of friends."
She says there are not just camps that need volunteers but also night-time events such as balls, school holiday programmes, bungy jumping, caving and everything between. If you just have a day to donate, she says that's fine too. Any help is appreciated.
Sarah's sister, Amy, 22, also volunteers for Recreate NZ. She's the only one of her friends who does volunteer her time to charity and she thinks that's because lots of young people want to be involved but find it quite daunting.
"It does push your own boundaries," says Amy. "I signed up thinking I would be pushing the kids' boundaries, but it works both ways. My personal growth has been far greater than what I have done for the kids."
Growing up in central Auckland, Amy says there's a lot of judgment and pressure on teenage girls to be a certain way. "Going on the camps with these awesome kids has shown me a completely judgment-free zone and pushed so many mountains for me.
"I've realised that it doesn't matter what other people think - just put yourself out there and do it. These kids have shown me that. You'll make lifelong friends."
To offer your time to Recreate NZ call (09) 634 3474 or see recreate.org.nz.
Doing a Phab Job
Born with congenital cerebral palsy, Joshua Fuimaono, 20, never expected to be a leader. He's now the chairperson of a youth engagement group in The Cube (a hub of youth disability service providers), as well as a spokesperson and ambassador for PHAB (a youth group for people who have disabilities).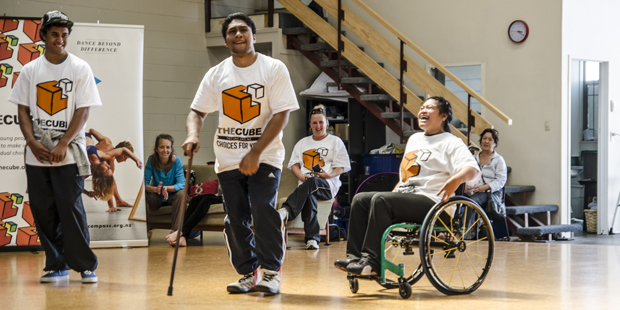 Phab - a youth group for people who have disabilities.
"I never thought I'd be that significant or that anyone would give me a leadership role in anything, really," admits Joshua, who has been in the group since he was 17. "From a young age, my life was planned. I have a disability and the doctors, specialists and my family prescribed a life for me. Then I was introduced to PHAB and they taught me you're not prescribed a life, you're meant to make one for yourself."
He says there's always a need for help at PHAB and young people can volunteer to help on the youth groups organising events aimed at societal change for young people with disabilities. There are weekly social sessions, an annual ball, life skills workshops and leadership development, as well as holiday programmes.
"For me, it was really hard at first because I did lack confidence in myself," says Joshua. "Through PHAB, I've learned that if you surround yourself with the right people, you can make a leader of your own life, showcase your skills on a greater scale than you ever thought possible and do something for the greater good."
To volunteer or find out more, see phab.org.nz.
Rising up for our Youth
New Zealand's first YMCA started up in Auckland back in 1855. The charity's original Bible studies and prayer classes have been replaced with events such as the YMCA Raise Up Crew's dance parties and live music events - run by young people for young people.
There are six crews made up of 20 young people (aged 13-18) recruited through high schools. New members are interviewed to weed out those who are just in it for the free gym membership that goes with the role.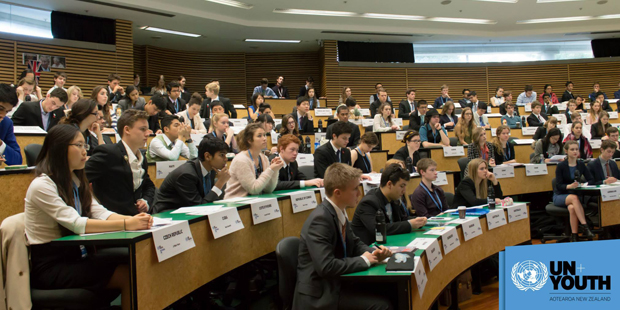 A recent NZ Model United Nations conference in Wellington attracted 200 young people from all over the country. Photo / UN Youth
"We look for young people who want to develop leadership skills, learn how to put on events and who will fit into the group," says Kev Carter, YMCA Mt Albert's community development manager.
An annual camp is held in South Auckland, where about 120 young people come from around the country to team-build and plan events for the year.
There are set outcomes each crew needs to accomplish: each needs to run four events, two workshops and two hours of activity every week (which could be as simple as indoor soccer).
However, each crew has total control over their budgets and planning.
Raise Up Crew events include a show at NZ Fashion Week called Walk the Line, and a Volume project - a 10-week music production workshop with a professional producer and musician working towards a tangible album at the end.
They also help at Auckland Council events, such as new skate parks' openings.
Volunteers do a minimum of two hours a week, but Kev thinks about 200 hours a year are given to the charity by each young person on the crews. However, the volunteers get a lot from the experience on a personal level in return and Kev remembers one boy who started two years ago with low self-confidence and shyness. Kev says that boy recently MC'd a quiz in front of 120 people.
"That's huge for him, and for us," says Kev. "He's learned that it's a safe environment around other positive young people and that we've got his back. He's got that support, we haven't pushed him into doing it."
Raise Up Crew meetings begin with everyone commenting on their best and worst part of the week. Kev says it gives each person time to shine and the camp also teaches leadership and communication training so the management can take a step back and the young people take a step forward. To find out more see the "youth" tab on ymcaauckland.org.nz.
The Voices Heard
Seventeen-year-old Samyson Robinson is one of the original Variety Voices Choir members, singing his heart out for a good cause. He says it's "an incredible experience".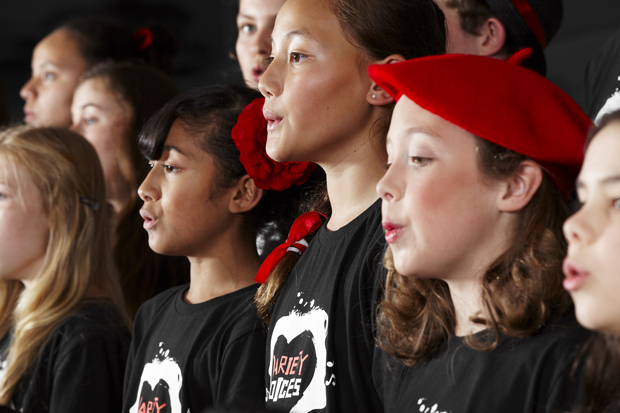 The Variety Voices Choir raise money for children's charities through their performances. Photo / Tom Roberton
There's no joining fee for the choir (part of the children's charity Variety) and it's free to become a member for children aged 7-18.
The choir meets once a week then appears at events in the community, such as Christmas parties and charity functions.
The choir performs "a little bit of everything", from nostalgic Christmas songs to Aretha Franklin hits.
"We're singing to help Kiwi kids who aren't able to have the experiences in life that we've had," explains Samyson. "We sometimes get to say hi to the kids we're helping at some of the events, or to see where our money is being donated to. For the tiny commitment we each make, our donations make a huge difference."
One of the most memorable events for Samyson was when the group raised money to give bicycles to disabled children.
He says, "It was literally incredible watching their faces - kids who never thought they would ever ride a bike. Words can't even describe the feeling it gave me."
Variety also runs a Kiwi kids sponsorship programme, in which young people can donate at least $35 a month to sponsor a disadvantaged child who can't afford basics such as doctor's visits, school supplies and uniforms. Samyson says it's "like World Vision, but for Kiwi kids".
"I was recently told there are more than 260,000 children living in poverty in New Zealand," he says. "I had no idea, I just couldn't comprehend that - it's breathtaking in all the wrong ways."
Instead of hiring a band for the Christmas function, hire the Variety Voices Choir for a tax-deductible donation. To join the choir, see variety.org.nz.
Need to know
• Other ways young people can volunteer:
It's heartbreaking to watch the atrocities happening to children around the world. To help find solutions on local and global issues, volunteer with UN Youth.
• If you're aged 13-18, join a Youth Town Youth Squad and showcase your leadership skills while learning event management.
• If sport's your thing, volunteer to be a helper at the Special Olympics, where you may be able to coach, cheerlead or market the event.