Libertine
37 Drake St
Freemans Bay
Ph: 09 9292790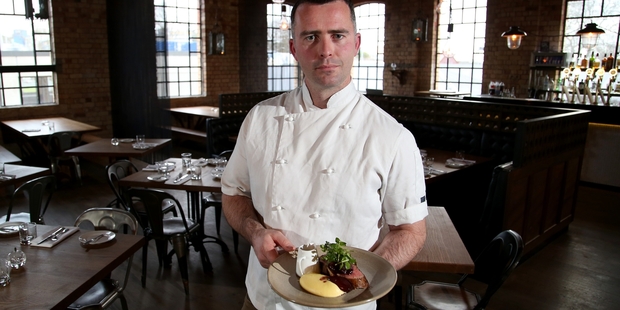 If you ask me - and I know you haven't but I'll tell you anyway - the Victoria Park redevelopment is starting to look like the emperor's new clothes.
No, that's unfair. The emperor's new clothes never existed, but there has been a redevelopment at Victoria Park.
More than $20 million was spent on a refurbishment, heavy on aluminium joinery, that finished a year ago. But the place still has all the pulsating rhythm of Dannevirke on a wet Sunday.
Tenants I've spoken to say they're haemorrhaging money because the promised crowds have never shown and the trickle of departures is about to start turning into a flood. I'm told that the bank makes the decisions these days.
Wandering along the rows of vacant shops on a sunny morning last week, I saw one place advertising 50 per cent off everything, which doesn't seem like a vote of confidence in the future.
It will be a shame if it doesn't work out, because it will make a dent in the dreams of some savvy restaurateurs who have opened up in the quarter in the past couple of years.
I rhapsodised on this page about IVillage at Victoria, which managed that apparent contradiction in terms, Indian fine dining, with imagination and style.
Along the Drake St ridge, with views of the market, is a line of restaurants including this place, which I visited two years ago, and which has recently restyled itself from - I quote their PR consultants - "a bar that served good food ... into a very good bistro".
Sean Marshall, who was at Roxy (the erstwhile fine dining room - now a bar - in the Imperial Lane development) and was in the kitchen at Matterhorn in Wellington in its heyday, has taken over.
The decor has not been noticeably tinkered with, and it still bellows booze barn, albeit a high-class one.
Bars are at the north and south ends of the cavernous space, which makes the lower-level dining area seem secondary.
We were welcomed as we entered with a cheery "Evening, gentlemen", which was perfectly understandable since the light is dim and the Professor has a haircut a bit like Colin Meads'.
Our waitress continued the theme by calling us "guys" all the time, which got on my wick a bit. Yes, you're right, I should get over myself but "Can I get you a drink, guys?" is gratingly familiar and, it seems to me, is no improvement at all on "Can I get you a drink?"
Libertine's former menu consisted largely of share plates with a Tex-Mex/Latin/Caribbean twist (ceviche, arancini, crab, jerk chicken), but the new line-up takes dining somewhat more seriously, maintaining the mystery with a deconstructionist menu that lists ingredients (oxtail, oyster, cauliflower, horseradish, beet) rather than describing dishes.
House-made butter accompanied some very indifferent bread, and the decision to souse Parua Bay oysters with a sharp shallot vinegar rather than having it on the side was ill-advised. But better was to come.
The playful nature of our entrees was typical of the kitchen's originality. Mine riffed on bacon and eggs, using ribbons of prosciutto around a coddled egg, with deep-fried crumbles of polenta standing in for hash browns; the Professor's goat-cheese used a delicate oatcake-style shortbread to set off creamy chevre of superb quality, with raisins and a squash puree lending sweet bass notes and chicory adding a tang at the top.
My main consisted of two steak-thick slabs of beef from a rotisserie-cooked rib-eye, perfectly medium rare and set between a mash enriched with duck fat (one of the most purely decadent things I have ever eaten) and a dark shallot gravy that was classic French perfection. The Prof exulted in a very meaty serving of poached hapuku with celeriac and fennel.
Sides included distressingly stalky cavolo nero and a bowl of roast yams and Jerusalem artichokes, the latter somewhat undercooked since they needed more time than the yams in the oven.
From an intriguing selection of four desserts, we chose a chocolate fondant with mandarin and pistachio, which was state of the art.
This is not what the French would call a bistro - the food's too flash and the room too flashy - and it lacks any point of distinction, but they do a damn good meal. Here's hoping that the market at the back door will turn out to have a future and not just a past.
Verdict: A step up