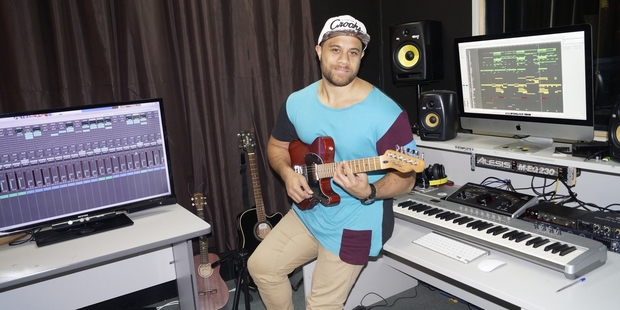 My happy place is my recording studio in Sydney. Whether I am working on music for myself or for other artists, it is where my creativity comes to life. I feel free.
My studio is black and maroon. We have a constant supply of water in a little bar fridge, a football table and an Xbox to help get the creative and competitive juices flowing.
We have a vocal booth that my fiancee, Abby, and I made when I was on tour in Melbourne. It has some of the awards I have won and plaques of gold singles I have worked on.
My first experience in a recording studio was about 15 years ago, recording my own vocals at the old Parachute Music Studios in Onehunga. I was so intrigued with how everything worked. I started collecting recording equipment when I could and set up various home recording spaces.
Depending on what stage the songwriting process is at, when I'm in the studio I can go into "producer" mode.
It becomes my sole focus for that little while.
When I am working with an artist, I push them hard to make sure they are giving 100 per cent.
I've been called a perfectionist before and although I don't think that is totally true, that part of my personality shows itself when I am recording.
One of the best moments I've spent in my studio was earlier this year when we put together Song for Everyone, a single for the For Everyone Charitable Foundation.
It was written by me and two other writers (John Hume from Evermore and Liz Webber), and features a huge line-up of Kiwi artists. Stan Walker helped me demo the vocals and it just went from there.
After all the preparation, individual recording, producing and mixing, it was such a great feeling to hear the end product.
When I have opportunities to write for something like Song for Everyone, it makes me even more grateful that I have my studio as I would not be able to achieve the things I have without it.
The track Song for Everyone will be released on iTunes on Wednesday. See foreveryone.org.nz and www.vinceharder.com
- as told to Bronwyn Sell