Handpicked, the best activities for your weekend agenda.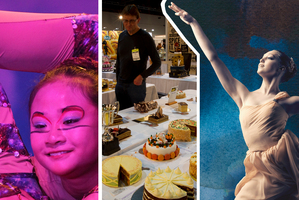 Fast and fabulous
Allegro, Royal New Zealand Ballet. Five short ballets from the tried and true Balanchine to the heart-stopping excitement of Larry Keigwin's futuristic Megalopolis or sexy Mattress, quirky ballet-meets-violin and Daniel Belton's stunning art/light/electronica work, Satellite. The company at its best.
Friday 7.30pm, Saturday 1.30 and 7.30pm, ASB Theatre, Aotea Centre, Tuesday Founders Theatre Hamilton
rnzb.org.nz
Eat, Eat, Stop
The Food Show just gets bigger and better, with stand after stand of great food and drink, cooking demonstrations from all your favourite food folk, gorgeous kitchen gear and more. Food exploration without going near a paddock.
Friday until 6pm , Saturday, 10 - 6pm, Sunday 10 - 5pm. ASB Showgrounds, Greenlane.
foodshow.co.nz
Happy Birthday to us
Remember Auckland's waterfront before Wynyard Quarter? Deadly dull.
A mere three years ago the bridge went up to the best part of our city - just in time for Rugby World Cup. Join the crowds eating at North Wharf, celebrating with workshops and watching early afternoon movies at Silo Park. Every corner of the city should be this friendly. yourwaterfront.co.nz
Twisty bendy jumpy
Zirka Circus' animal-free shows are back in Auckland with their "Send in the Clowns - amazing, awe inspiring, death defying acrobats, magic, contortion, juggling, balancing. Kids don't try this at home (and Dad, the clowns will have you searching for better Dad Jokes).
Tonight, 7pm, Saturday 2pm, 7pm, Sunday 1pm, 4.30pm North Shore Events Centre eventfinder.co.nz
View this weekend's weather here

Follow Life & Style Online on Twitter here. Follow Life & Style Editor Nicky Park on Twitter and Instagram. Follow Weekend Life Editor Catherine Smith on Twitter and Instagram.
- www.nzherald.co.nz