Karena and Kasey Bird salute their mother's home-cooked treats.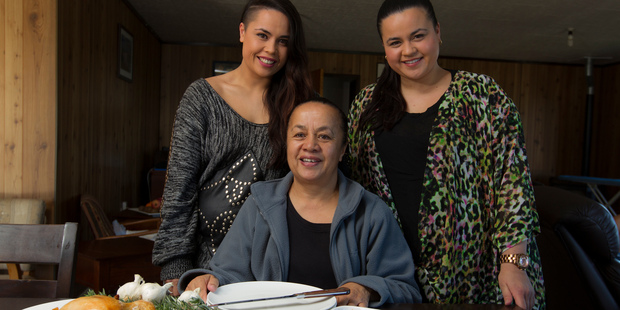 There nothing better than coming home to find your mum has made your all-time favourite meal. Growing up, we were always well-fed. Our mum had classic recipes she would pull out time and time again that would never disappoint.
Our mum, Atarangi, is a funny wee thing - she never fails to make us laugh and drive us crazy. She is always on the go and is always looking after everyone else so much. She has been caught climbing in through Karena's window to get her washing.
She is definitely the lady-about-town and a trip to the supermarket for a loaf of bread takes at least half an hour, after she has done a lap around the shop saying hi to everyone.
Some of our best childhood food memories include baking chocolate chip biscuits. Mum would cover the kitchen in newspaper to ensure easy clean-up. We weren't as practised at keeping our benches clean back then.
And waking up in the early hours to make fresh rewana bread on wet days. We would bake big, beautiful loaves. Watching the dough double in size as it sat on top of the fireplace was always fascinating.
The smell in the house was incredible and it tasted that much better eating it wrapped up in front of the fire with our pyjamas on.
That is the same warm feeling we get when we eat the recipes we are sharing today.
These recipes are some of our all-time favourites from Mum. One of her most-beloved breakfasts was eggs in a nest. She would usually use white toast, buttered both sides with a hole cut out of the middle for the egg to be cracked into.
Our favourite part was frying off the circular cut-out in the pan and dipping it into the runny egg yolk.
We are sharing with you our version of this dish, using a flaky croissant in place of the bread and adding a side of bacon and grilled tomatoes for a little added decadence.
It's a great Sunday morning breakfast or brunch.
We couldn't write about our favourites from Mum without including her signature dish - Kasey's favourite: roast chicken and stuffing.
Mum's famous stuffing recipe has been top secret until now. Our friends always request it when they come over for dinner.
For something sweet, it was a hard pick between Mum's crepes, her sultana cake or the recipe we have chosen. We asked Dad for his favourite and he said without a doubt it's Mum's warm and comforting apple sponge pudding.
The most important thing Mum has taught us about food is to take the time to enjoy it with family and friends - and buy what's on special.
Atarangi's Top 5 tips for life:
1. Treat people the way you want to be treated
2. Always have a packet of tissues on you
3. Look after your brothers and sisters
4. You can't wait for things to happen; you have to make them happen
5. Mum is always right
Recipes
Try out Karena and Kasey Bird's delicious recipes at bite.co.nz - links below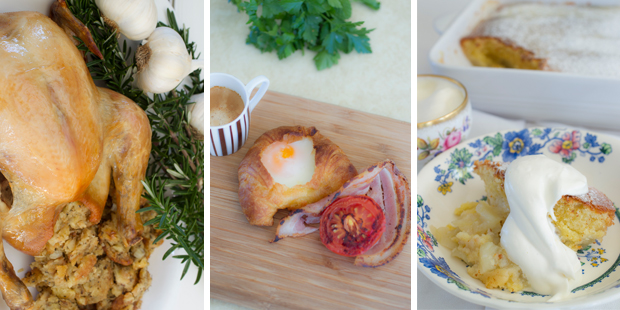 Photo / Michael Craig
• Roasted Chicken and Stuffing
• Egg in a Nest
• Apple Sponge