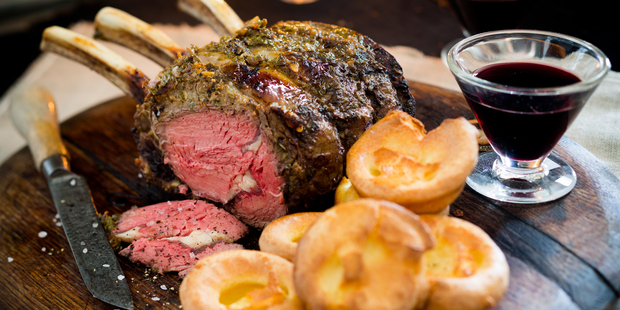 Not just for the game day crowds, the Kingslander's carvery buffet (basic $15, gold $45) has turkey as well as the usual pork, lamb, beef and chicken and a terrific array of sides and sauces.
470 New North Rd, Kingsland.
This North Shore institution (remember the Poenamu?) believes in generous servings of roast salmon or lamb rump, as well as the usual chicken and beef. Chef uses only local produce and meats, organic and free-range goods and makes bread, bases and sauces on site.
31 Northcote Rd, Northcote.
Fine food in a luxury hotel setting makes for a special weekend outing. Try the angus beef sirloin, slow-roasted pork hock or honey mustard lamb. Be completely greedy and stay on for high tea.
22 Albert St, City.
4: Your place
Join the new-old family tradition and make a terrific roast dinner at home to celebrate Selaks National Roast Day tomorrow. Go to selaksnzroastday.co.nz or check out our recipes at bite.co.nz.