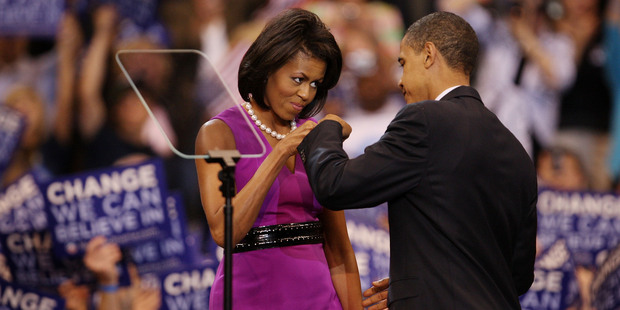 Bumping fists - the fashionable alternative to the handshake used by everyone from President Barack Obama to the Dalai Lama - is better than the traditional greeting because it reduces the spread of germs, according to scientists.
A study at Aberystwyth University found that using a "fist bump" instead of a handshake could reduce the spread of bacteria and viruses by up to 90 per cent. Even swapping a firm handshake for a gentler one could halve the spread of infections such as MRSA, researchers said.
Faster methods of greeting mean less skin surface area is exposed, reducing the chances of bacteria spreading from person to person.
In the study, the findings of which were published in American Journal of Infection Control, scientists tested different forms of greeting and how they affected the transmission of E.coli. The most bacteria was passed during a handshake, half as much in a "high five" and 90 per cent less when bumping fists. Dr Dave Whitworth, a senior lecturer, said: "People rarely think about the health implications of shaking hands.
But if the general public could be encouraged to fist bump, there is a genuine potential to reduce the spread of infectious diseases."
He added: "When there's flu going around or coughs and colds, if you want to touch someone as a greeting, a fist bump is much better than a handshake."
He said the extent to which fist-bumping reduces the spread of flu depends on how much of the virus is transmitted via particles in the air. But it is common for people to shake hands before touching their face, he pointed out.
The study could also have wider implications, claimed Dr Whitworth.
"In a hospital, the best thing would be to have no body contact," he said.
He accepted, however, that societal norms could prevent the fist bump catching on. "It's quite rude not to shake an offered hand," he said.