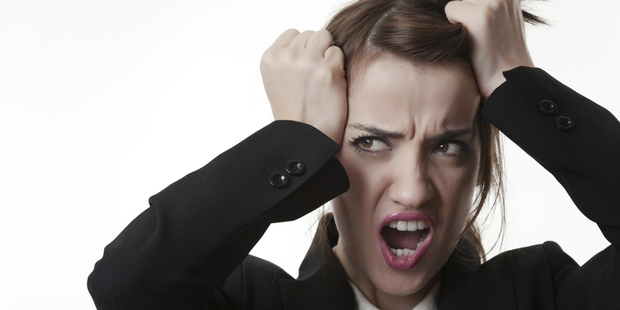 If you're in the office today, chances are somebody has annoyed you. When you spend 40 hours a week with the same people, there are bound to be some little habits that drive you crazy.
In no particular order, here are seven of the most irritating office habits.
Sighing, whistling, throat clearing
Most of the time, the offender has no idea they are making a sound at all. To them, it's just a habit. But every time you hear the cheery whistle, or the start of yet another sigh, you want to scream.
The smelly food eater
Shared kitchen, confined space. It should be obvious, right? Don't eat something with a strong odour that will linger. These culprits also include that one person who keeps burning their toast.
The busy co-worker
This person is always much busier than everybody else (though they may not actually have more work to do.) They are often in a panic because they have so much on their plate, loudly state how they stay late and come in early, and can't understand why everyone else has it so easy.
The background music player
This person's radio is turned down low, or their headphones are blasting away. Either way, you catch snippets of songs, but never loud enough to hear properly. This is far worse than just listening to the music - this way you can't zone out.
The MIA co-worker
This person has had more family emergencies in one month than you'll have all year. They are excellent at disappearing acts, while not actually leaving the office. Frequent trips to the bathroom, mailroom, photocopier and to others' desks make up a large portion of this person's work day.
The screen spy
You know the one. They arrive at your desk for a chat, but their eyes dart towards your screen, trying to see exactly what you are working on.
The gossip
Sure, we all like a bit of juicy intel. But this person makes it their business to find out what is going on with everyone in the office. And if they can't find out for sure, they're happy to make something up. Not to be trusted, the gossip simply can't keep anything secret and telling others makes this person feel very important.