Facebook bullies urging you to spout joyful cliches not much help when your life sucks.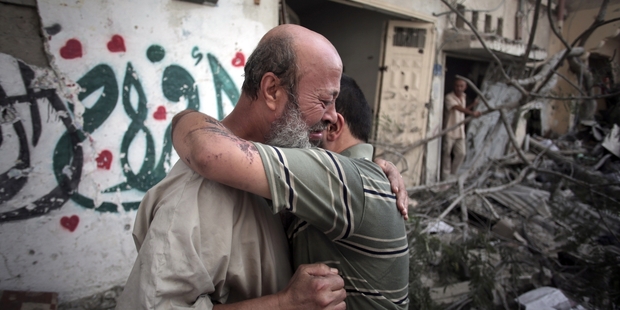 There is this bossy edict doing the rounds on Facebook. You are supposed to declare things you are grateful for. Some popular ones: sun on your face in winter or living in a trendy inner city suburb with cafes that serve carbonated water without being asked. Whatever.
Well I'm sorry but I don't feel grateful. I don't feel grateful for anything. Ingrate: that's me. Life sucks. This week I found my dog has cancer. I had an ill-advised fixation with an older man which wasn't even a proper affair but really just a series of texts - God, texts are annoying - that ended.
I suppose I've had what used to be called a mental breakdown. Is there a new word for what they call them these days? Funny, I now can think of some things I am grateful for: Clonazepam (honey, this is divine stuff), Metallica turned up to 11, and the obliterating searing rip of squatting 30kgs which wipes out the emotional pain, at least for a little bit.
The point is, when you are feeling in the depths of despair it does not help at all to be told to count your blessings.
Sod off. Orwellian cheer - the equivalent of a minute of hate but a minute of stupid glee - just makes me want to punch someone. Actually, far from being a land of Disney princesses, the world is full of pain and misery and Gaza, Ukraine, David Cunliffe. Wake up, people. If you are really hurting you have to hit rock bottom and relinquish all hope. That is the start of your recovery. You can't recover until you can accept there is absolutely no hope. And cry a lot. Then the trick is to find the odd cool absurd thing that makes you laugh. My Facebook friends help with this.
"Grab the mic at Countdown ... even the thought of it makes me feel better to tell half of Warkworth what a two timing arsehole my ex is."
"Can you get outside and stride down a windy west coast beach today? It will help!"
"Times like this, stand in front of the world and say 'f*** you and the horse you ride in on'. Really loudly."
"QUICK write a poem."
"You have two wonderful children who love you utterly and you them. That's something to feel grateful for." (My response to that; "bog right off." That doesn't help at all.)
"Counting one's blessings" is bullshit; not having cancer won't make you happy if you don't have the emotional support you need. The authors of The Tools, Phil Stutz and Barry Michels - a self-help book which Vanity Fair says is the favoured guide to life for Hollywood bigwigs although that's not such a great recommendation ... anyway, in The Tools the authors talk about how the key to creating peace of mind is tapping into what they call "grateful flow". But they admit that exhortations to think positively are not very useful. The important thing is realising we are not living in an unfeeling universe.
The universe is actually looking after us in small and large ways that we are mostly not even aware of. Our body, the earth, all the things that sustain us. Being aware of the generosity of the universe is a part of a deep feeling that something has been given to you. When you know that, you can be overcome with the miracle of being alive and being grateful. But it has to be real. "Stick to things you are truly grateful for not things you feel you should be grateful for." So anyway, my only coping mechanism is crying a lot in between making the children fish fingers.
But while I wanted to write this grumpy column about how much I hate being bullied to feel obliged to be grateful, I can't. Because now I am writing this at my kitchen table, surrounded by my family and my friends, eating cheesecake from the Avondale markets, the kids are all yelling and being crazy, we are drinking wine and listening to the blues. So maybe I have a lot to be grateful for after all. I just don't like being bullied to admit it.