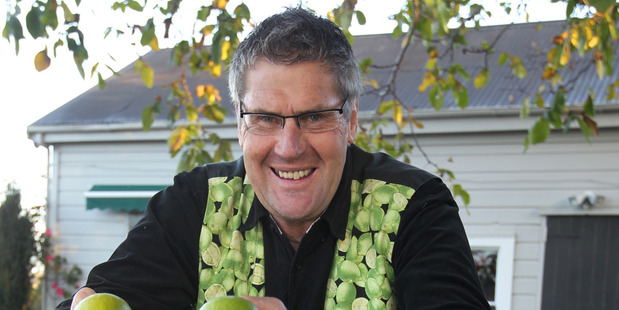 My happy place is my garden and orchard, which are near Havelock North in the Hawke's Bay. My wife, Allison, and I have owned the property for 18 years - a 1905 villa with seven acres we've planted in 200 lime and lemon trees.
It's not exactly the right place to grow limes - they're better off in a frost-free area and we get down to minus-four here - but other than that it's superb. Everybody thought I was nuts planting limes where I have - everyone else around here grows apples or pears. Nobody was planting them back then. I think there were only two growers in New Zealand, one in Gisborne and one in the Bay of Plenty.
But I did a soil test and discovered it was ideal for citrus, even if the climate wasn't that good. So I've persevered - covered them and sheltered them from the wind - and I have very good lime trees now.
I love the orchard. I've had mentors and accountants tell me I should employ someone to do the work in the orchard but I like doing it myself. I find it peaceful.
I can let my calls go to the answerphone, get away from stress and concentrate on doing what I'm good at: dealing with plants, picking them, pruning them ...
I love my garden, too. Before this I owned a garden centre, and I was a landscape designer for about 15 years. It used to be a native garden, but I ripped all that out about five years ago and I've now got more of a formal garden with a bit of structure. We have a lot of buxus hedges - some are low, some are taller, with a rhododendron garden in behind, with azaleas and irises. We get a lot of tui in our Prunus campanulata flowering cherry trees - sometimes 30 in a tree in spring - and we have Banksia, which attract the bellbirds and native pigeons.
At the centre of the garden is a large water feature - a pond with a gazebo on top, which sits out on top of the water, accessed by a wooden walkway. My favourite thing to do at home is have friends around and drink gin and tonic at the table in the gazebo, although it's a bit wintry for that now.
The garden is a place for de-stressing. Normally, I work Monday to Thursday and try to have Friday and Saturday off to spend in the garden, and I do the Hawke's Bay Farmers' Market on the Sunday. I love it. Life's good.
- as told to Bronwyn Sell