Rocker and best friend's daughter happy to let tattoos and scars tell their stories.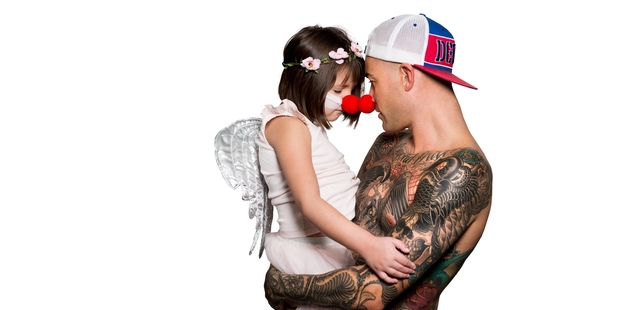 A stunning photo capturing the heart-warming bond between a heavily tattooed rocker and a sick little fairy-girl has gone viral - exactly as the unlikely looking pair wished.
Six-year-old Cure-Kids ambassador Eva Mitchell teamed up with I Am Giant drummer Shelton Woolwright for the picture, taken by Auckland photographer Carmen Bird.
Just as Woolwright's tattoos tell his story, Eva's scarred tummy, tubes and lines tell hers. It's the story of a little girl who was not expected to live past a few days because of gastrointestinal failure.
The picture was posted this week on a Facebook page and attracted more than 3500 likes and was shared almost 400 times in the first day.
Eva's mum Tiffany Mora dreamed up the idea behind the photoshoot to raise awareness for Red Nose Day, on August 22.
"I have always told Eva never to hide her scars or be embarrassed because they make her who she is, just like tattoos tell a story," Mora said.
"Her scars are part of her story."
The family has been through a tough few weeks with Eva seriously ill with an infection - reminding Mora just how vulnerable her daughter is.
Despite her recent sickness, Eva was determined to still do something for Red Nose Day, so a relaxed, indoor photo-shoot was arranged.
Woolwright, who is best friends with Mora's partner Jason Mcleod, was "humbled and proud" to be involved.
Spending time with Eva made him realise how much people take for granted.
"People get so hung up on little things and here is this little girl who is really sick and she just gets on with it," Woolwright said.
"It was such a nice, positive thing to be involved with."
Money raised from Red Nose Day goes towards research into illness and disease affecting Kiwi kids.
To make a $3 donation this Red Nose Day, text "nose" to 933