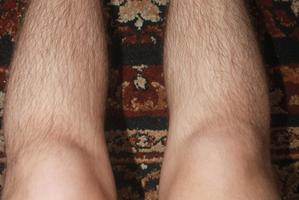 I probably wouldn't have noticed the new Tumblr group the Hairy Legs Club where hundreds of women are posting pictures of their hairy legs online, if a friend hadn't sent me an email:
"After going grey, perhaps you should consider this, or maybe you already have?" she said and attached a link.
I'm known in my circle of friends for being the natural one. No hair dye, no commercial face creams, certainly no Botox and no grooming of my lady garden. I wasn't sure whether I was flattered or deeply worried that my friend thought I didn't shave my legs, because I do. But not all the time.
Shaving something that is never seen is a complete waste of time so in the winter, when I wear tights and pants all the time -- leg hair runs free.
And now I just heard you say out loud: "Eww!"
And that's the problem. Women have been conditioned to look a certain way, which involves smooth, silky legs at all times, requiring expensive tools such as razors and special soap or regular visits for waxing or, distressingly, the new trend of lasering it off permanently.
As Cameron Diaz, on The Graham Norton Show, warned women who are removing their hair forever: "Are you doing it because your man thinks it's sexy? It don't come back and you might change your mind and the man who thinks it's sexy might turn out to be a total ?!?#!?"
If a man is the reason you shave, then you might like to consider joining the Hairy Legs Club just to see how it feels to be yourself for once.
I looked at the pictures of hairy legs posted on Tumblr and found them challenging. Just as I found Conchita, the drag artist who won the Eurovision Song Contest. I'm just not used to seeing full beards accompanied by a dress. But that doesn't make it wrong.
What the Hairy Legs Club is doing is allowing women to be who they want to be without feeling they have to conform to an unrealistic image of what women should look like.
I've never asked my husband what he thinks of my "winter coat", because he's not the boss of my body. If he was, I'd ask him to get rid of menopause. But now and then he tells me about a hair that grows out of my chin and I'm very happy to get rid of that. Freedom I can do but witchy whiskers, I can't.