Handpicked, the best activities for your weekend agenda.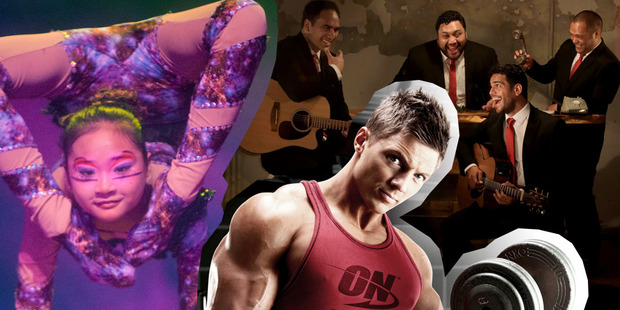 Twelve of the Best
One of the lynchpins of Auckland Matariki - the 2Degrees Kapa Haka Super 12s shares $12,000 prize money as 12 performers battle it out for 12 minutes each trying to best impress the judges. This is modern, and fast and super fun (with kai and crafts for sale too). See how the Cloud holds up to the rain storms, no problem.
Details: Saturday, 9am-4pm. The Cloud, Queens Wharf, Auckland City. Free. Website.
Four Guitars
Kiwi boys from the Modern Maori Quartet (complete with 60s-vibe suits and the essential guitar) team with Temuera Morrison and Mike King on comedy for a night of skits and songs from our favourite boy from Rotorua. Tem should know, his Uncle Howard practically invented the genre back in the day with his Howard Morrison Quartet. It's being taped for a TV One show too. Iconic songs a new twist.
Details: Friday and Sunday, 7.30pm. Mercury Theatre, Mercury Lane, Auckland.
Tickets $20 from iticket.co.nz. Website here.
Muscle madness
The pecs, the abs and the quads are all on display this weekend at the NZ Fitness Expo. There's clothing, supplements and workout regimes with demonstrations from Brazilian jiu jitsu, strong men, arm wrestling, visitor challenges (pull ups, anyone?) and giveaways. Abandon the couch, be beach-ready by summer.
Details: Saturday and Sunday 10am-6pm. ASB Showgrounds, Greenlane. Tickets: $8.50-17.50. Website here.
Send in the clowns
Along with the contortionists, jugglers, balancers and magicians of Zirka Circus, in town for the school holidays. Funny sweet, and sorta scary, this is old fashioned family fun.
Details: Friday, Saturday, Sunday, two sessions a day. ASB Showgrounds, Greenlane. Tickets from $19 child, $29 kids. Website here.
View this weekend's weather here
Follow Life & Style Online on Twitter here. Follow Life & Style Editor Nicky Park on Twitter and Instagram. Follow Weekend Life Editor Catherine Smith on Twitter and Instagram.
- www.nzherald.co.nz