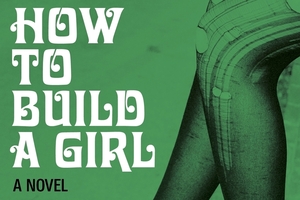 At the beginning of Caitlin Moran's first novel for adults, How To Build A Girl (Ebury) there is an author's note in which she assures us the book is entirely fictitious.
Yeah right.
I'm prepared to believe there are fictional elements but the story is drawn directly from Moran's late teen years, as anyone who has read the autobiographical bits in her feminist polemic How To Be A Woman can see.
Not that there is anything wrong with that.
It's just the sparkiness of Moran's previous writing - and the fact I've developed a girl crush on her - had built up an expectation that she'd come up with something that wouldn't give me such a serious case of deja vu.
Moran grew up in a Wolverhampton council house, one of a large, eccentric family.
She was an awkward teen and a writing prodigy who started a career on a weekly London music magazine when she was just 16 and became infamous for her eviscerating record reviews ...
ditto all of that for Johanna Morrigan, the lead character in How To Build A Girl.
That's not to say this novel isn't one of the funniest things I've read in a long time.
Johanna is a fabulous creation/doppelganger. She's naive, hopeful and droll, an adorable oddball, and she's having a more exciting than average coming-of-age.
It's 1990 and Johanna is busy enjoying life to the point of exhaustion and hoping her impoverished hippie father gets his longed for record deal.
What she wants most of all, however, is to move to London and become the person she'd like to be - although she's not entirely sure yet who that is.
Then, while visiting the elderly neighbour she has befriended, Johanna lets slip that her father is on a disability benefit and afterwards becomes convinced the neighbour is going to dob him in for being fit to work.
Wracked by anxiety, she decides there is only one solution; she has to get rich and save her family from disaster.
Johanna's quest for cash leads to her re-inventing herself as the top-hat wearing Dolly Wilde. With this brave new alter ego she embarks on a career in music journalism, falls in love with a hopelessly unsuitable man and has a great deal of sex, some of it alarming.
There is so much I loved about this book and by the time I'd laughed out loud for the fourth or fifth time I was even ready to forgive Moran for her shameless life recycling.
I loved the bits where she gets slightly ranty about the class system, I loved the scene where Dolly gets it together with a ludicrously over-endowed man, I loved the sheer accuracy of much of the stuff that goes through her over-wrought teenage mind and I especially loved the trajectory of Dolly's learning curve.
So although I reckon Moran needs to move on from her own life and get some properly original material for her next novel, my girl crush on this UK journalist, author and all-round huge personality remains pretty much undiminished.