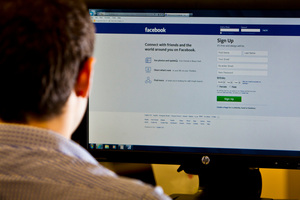 Facebook knew we'd broken up. I dunno how.
I'd emailed my mum and a couple of friends but I'd never listed anything under that stupid "Relationship Status" tab.
We'd dated for a while, sure, but kissy-huggy-gushy photos and public proclamations of love aren't really my thing.
In the sweep of immediate heartache I became a little paranoid. I wondered if maybe Facebook's all-seeing algorithms had somehow bugged my Skype, or even computed the sudden melancholic streak in the music I was pumping in my apartment.
A light would flash at Facebook HQ: "Forget the menswear advertisements and ads for Hotels.com. Jack Tame's an 80s baby in the first stage of a break-up."
And thus, just a few days on from the awful conversation with my former belle, Facebook's corporate advertisements were feasting on my pain.
"Recently Single?" the first one queried. Funny you should ask.
"Match.com links singles in your area."
How. Bloody. Convenient.
Of course, corporate ads were nothing new in my social media world. If I happen to Google search a half-decent shoe shop or a replacement part for my camera, Facebook and Twitter lace my feeds for days with ads for Nike, Sony and Panasonic. It's all rather predictable.
But I never click. Never.
And as we're increasingly sucked into a vapid social media existence, it can hardly be surprising all that corporate social media clutter only serves to irritate. I am convinced my eyes have developed a subconscious scan that immediately flicks past any post for which money was exchanged.
Ad creators need to be more creative. Facebook and Twitter et al will have to resist the urge to bombard us further, lest we all sign out for good.
And I will have to get used the fact that in this social media world I'm still cookin' soup for one.
• Jack Tame is on Newstalk ZB, Saturdays, 9am-midday.