A month of eating better and exercising is paying dividends for Northland trio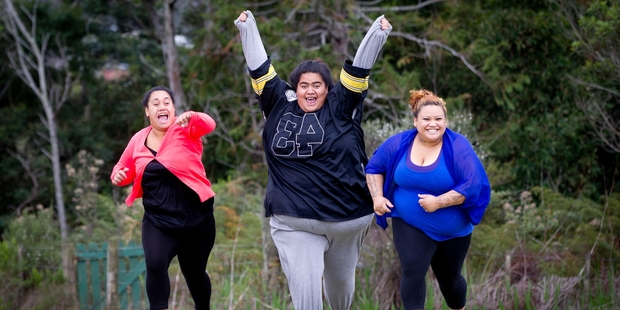 A month ago, a group of overweight cousins decided they needed to make a change in their lives - and they have.
Letitia Te Pana, 24, Ashaard Wihongi, 21, and Zara Kanuta, 22, have spent the past five weeks training and eating better in a bid to become healthier people. Their story featured in the Herald in early June.
Miss Wihongi has come down from 100kg to 92kg, Miss Kanuta is 109kg, down from 117kg and Miss Te Pana is 185kg.
Speaking yesterday, she admitted it had been a difficult past few weeks.
"It's only five kilos," she said shyly. "It's been hard, but I'm still going."
Miss Te Pana decided to lose weight after being repeatedly talked down to and mocked by others.
She said she was tired of being known as the big girl in Dargaville.
"I'm just sick of being fat. I get called fat. When I was younger, I'd go home and have a cry about it. But I'm changing things now."
Her diet used to be takeaways, fatty junk foods and boil-up meals.
"I drink a hell of a lot of water now. I have sandwiches and good meals now."
The women schedule their workout sessions around their children and work. Early morning exercise, afternoon walks and sessions after work have been part of their lives this past month.
They have been contacted by hundreds of members of the public and professional trainers offering their support and help.
The women are now getting ready to take part in their first marathon run, in Auckland, later this month.
Miss Wihongi said: "We're really keen to do it and we're all going to do it. It's making us work harder, I think."
Miss Kanuta said it was a thrill to have people they didn't know contact them to let them know how they had inspired them to shed kilos too.
The women have also had to fight the negative comments that have come their way.
Miss Te Pana said: "All that negativity is actually all about them, not me. I'm just going to stick to being positive and doing this - not for them, but for me."