The sheer pleasure of gliding around the rink is worth the falls, discovers Elisabeth Easther.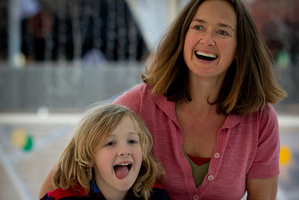 Ice skating is one of those things that looks so beautiful when it's done well. It's just that in reality, it's flipping hard, as is the ice when you fall on it. I know that for a fact. Although it's also really fun when you get the hang of it so it's worth persevering. At least that's what I told my son.
The Aotea Square Ice Rink has been brightening up Auckland winters for three years now. My son and I enjoyed a most excellent skate there last month when it first opened, and, while we were bursting with enthusiasm, it's fair to say we lacked finesse. Watching my precious child flail and fall and get up only to fall again, I felt like I had several minutes shaved off my life. Yet despite those ups and downs, Theo refused to give in and insisted we stay until closing time. Back home it transpired he had earned a lovely wee bruise on his chin and had even tasted blood after biting the inside of his lip but still he wanted to go back for more - hence our decision to book in for a little instruction.
Popping down to Aotea Square after school is like taking a mini-trip to Budapest or the Rockefeller Centre, it's just so elegantly exotic to have an ice skating rink in the centre of Auckland.
At the rink we met Pansie Sun, one of Paradice Botany's finest skating instructors. We knew immediately we were in good hands. Pansie's only been skating for six years but to see her on ice you'd think she'd been at it since childhood. She's so confident and graceful, an accomplished figure skater, even an occasional ice hockey player who also coaches 3-16 year olds in her spare time. Pansie was kind, fun and patient adopting just the right tone to talk to an 8-year-old. She gave clear instructions, used the right amount of humour and possessed such genuine warmth I'm surprised the ice didn't melt. And every time Theo was about to fall, she'd swoop down like a hawk and he'd be back on his feet again, beaming gratefully up at his rescuer.
Starting us with the basics, before we even got on the ice, Pansie told us it is a good idea to kit kids out with helmets and definitely wear gloves because the hands will take a bit of a pounding if you're prone to falling.
Next Pansie taught Theo how to stand on ice, then how to walk on ice before adding pushes to the sides. Pretty soon there was a modicum of grace.
"Keep your head up, chin up. If you look at your feet and you'll fall on your face," Pansie was full of good advice.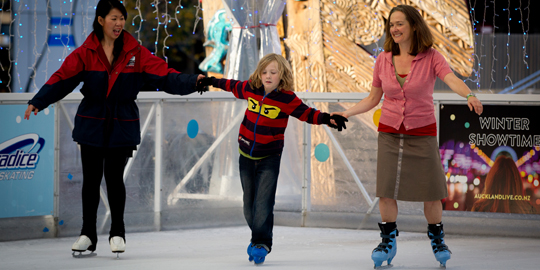 8-year-old Theo Easther gets an ice skating lesson at the temporary rink in Aotea Square, Auckland. Photo / Sarah Ivey
We also learnt how to get up safely and how to avoid having our fingers run over which is very important if you want to continue playing the piano - FYI ice blades are sharpened regularly.
She taught us to raise our arms out to the sides, like we were trying to be jet planes, as this position fosters good balance.
"This is not a swimming lesson," Pansie would remind us, when our arms started spinning in circles like windmills. Pretty soon we were jzooshing and whooshing around the ice, going with the flow and best of all having fun.
As for Theo, his verdict on the lesson was a resounding two thumbs up. Not only did Pansie help him come to grips with the basics, he also mastered a technique that helped stop him falling at least half of the time - bend the knees and raise the arms straight out in front at shoulder height (try it, it really works).
This ice rink really is a tremendous addition to Auckland's winter calendar: the music, the lights, the aroma of doughnuts and the sheer pleasure of gliding on ice - Torvill and Dean, eat your hearts out.
Need to know
Aotea Square Ice Rink: Pop along for a skate session, a lesson or attend one of the themed events There are also regular demonstrations as well as a 35-metre long ice slide. On the outskirts of the rink you'll find elegant old school carnival rides - it's all simply delightful and particularly magical at night. Until July 20.
Price: Adults $20, children $15 for 90 minutes on ice with skate hire 30 you get 90 mins on the ice (including skates) and 30 mins of that is a lesson.
Ice slide: $8 for three rides, $12 for five rides