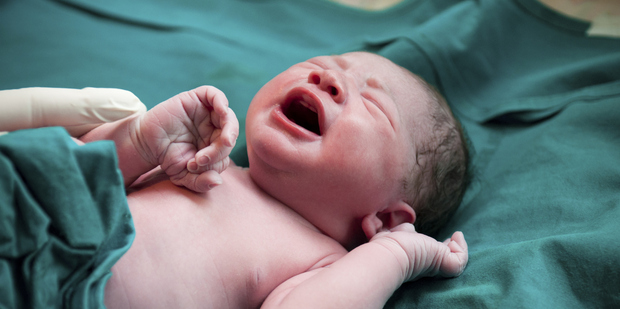 Only one in 20 British fathers now avoids being in the delivery room when his baby is being born, a survey by the British Pregnancy Advisory Service has found.
The rest, I guarantee, are desperately telling themselves to be brave, wondering where to look and wishing they could check the score in the World Cup.
One of the best things about becoming an old chap is that nobody will ever again twist my arm with mute moral blackmail to take up that pointless, useless, redundant place of the father in the delivery room. Next time a baby is born in my family, I look forward to occupying the safe seat in the hospital corridor, waiting to be invited in after that shocking business with the blood and guts has finished to meet and greet my grandchild.
Through a multitude of marriages, I have been four times to the delivery room. Every time, it was an unspoken, unquestionable assumption between me and the mother that, from the breaking of the waters to the cutting of the cord, I ought to be there. I was implicitly given to understand that I would be counted among the scum of the earth if I didn't rise to this occasion, see it as a spiritual transport of delight and describe it ever after as one of the best moments of my life.
But then there's a lot about labour that nobody puts in so many words. Nobody ever told me that after the birth, I would feel as shaken as if I'd been in a car crash. That was how I felt for about two days after my oldest son was born, 32 years ago.
I now see it as my fatherly, comradely duty to pass on that kind of information, sparing no gory detail, to young men about to see service in that war zone for the first time. Nobody else will tell them.
New fathers also need to be told that, when they enter that room, they might not see daylight again for a long time; and also that, in the endless night to come, they are likely to witness sights no civilised man should ever see except in gruesome hand-to-hand combat with axe and pike.
A new father might be more use to his family at home in bed and clocking up some hours of undisturbed sleep in preparation for the Guantanamo-like tortures of wakefulness ahead.
Or playing golf. Or watching cricket. Denis Thatcher was excoriated for watching a cricket match while Margaret was giving birth to their twins in 1953. What nobody ever points out in his defence is that Denis was attending the most momentous cricket match of his lifetime -- the Oval test when England beat the Australians and wrested back the Ashes for the first time in 21 years.
Surely no sensible woman would expect her husband to be anywhere else on such a day of spiritual transport?
When I was invited to Lord's in 2005 for the first test of that year's equally momentous Ashes series -- on the day my younger daughter was due to be born -- my wife gave me an exceptional dispensation from delivery-room duties.
But the baby delayed her arrival until I could get back -- and she has been a contrary cuss ever since.