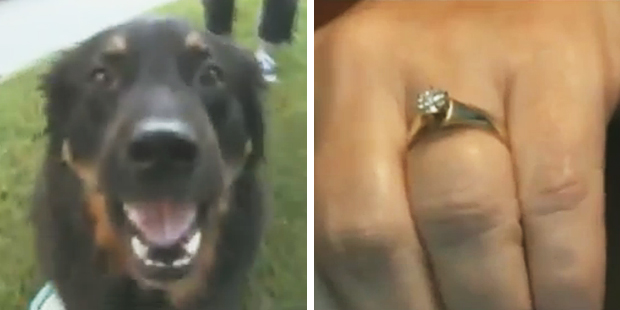 A woman was pleasantly shocked when the family pet recently vomited up her wedding ring six years after it first went missing.
Lois Matykowski was devastated when her ring first disappeared and even checked her dog's poop for several weeks in the vain hope of recovering her prized possession.
Bizarrely the ring finally reappeared last Monday and the culprit after all this time was Tucker, the family's 10-year-old Rottweiler mix adopted from the Wisconsin Humane Society.
Watch: Dog coughs up missing wedding ring
"He is 10 years old, but he acts like he is two," Matykowski told ABC News about the dog they lovingly call the "food burglar".
Matykowski was eating popsicles in the yard in Stevens Point with her two granddaughters last Monday when she noticed Tucker panting.
She went to get the pet some water, but the "food burglar" had quickly swallowed a whole popsicle, including the stick.
Scared he would get sick, Matykowski immediately called the vet who recommended feeding the dog some Vaseline between two slices of bread.
The Vaseline sandwich helped Tucker coughed up the stick but two days later he was sick again.
"He was making goofy noises, and was acting like he was going to throw up," said Matykowski.
Her husband, Don, took Tucker to the yard where he threw up.
When Matykowski walked out to clean up Tucker's vomit, she spotted something sparkly and couldn't believe her eyes when it turned out to be her diamond wedding ring.
"I screamed. I kid you not," she said.
After a quick clean with a toothbrush and toothpaste, the ring looked exactly like it had some six years earlier.
The vet believes the popsicle stick may have dislodged the ring, but gave Tucker a full X-ray to make sure there wasn't anything else hidden in his belly.
"My friends have been telling me: 'I want a dog that throws up diamonds,'"said Matykowski. "Who wouldn't, right?"
The couple had been married for 20 years when the ring first went missing. They had just upgraded the ring and it wasn't insured yet.
- Daily Mail