Address:
462 New North Rd, Kingsland
Phone:
(09) 849 4448
Rating out of 10:
Food: 8, Service: 8, Value: 7, Ambience: 7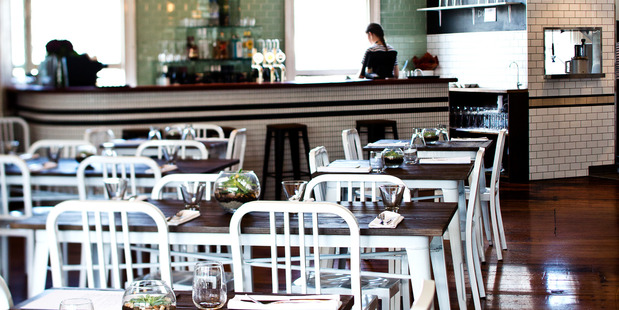 Loop, with its white walls, tables and chairs plus a rather magnificent curved bar, is a refreshing change in Kingsland. It's been open only a few months, and run by talented Scottish chef Craig Rodger and his wife, Hailey Boock, as maitre d'. Apparently their entire family turned out to redecorate the restaurant space, helping the youngsters take on the tough and crowded Auckland market.
Also serving as waiter and wine waiter, Hailey was assured. Even better, she knew the shortish wine list intimately. Yes, she did have a slightly sweet, aromatic pinot gris, with just the hint of a dry finish we asked for. "It's from Alsace, Metz Pinot Gris Cuvee. Would you like to try it?" I did and it was perfect.
We were off to a good start. By 7.30 on this wet and windy weeknight, the place was pretty full, yet there was almost no waiting. First, came a surprise amuse bouche, in the shape of a shot glass of warm and tasty tomato soup, topped with a tiny olive beignet.
Our entrees arrived looking spectacular, especially the duck parfait with beetroot puree, pistachios and more, all set out like a face on the plate.
The parfait and had a wonderful light but creamy texture. Meanwhile, the gnocchi served with rocket, mushrooms, butternut and truffled goat's cheese was all over the plate, too - to the point where our young companions grizzled it was "all too fancy". I didn't agree. This was nouvelle cuisine at its best. My scallops with carrot puree, were beautiful. Three fat scallops, devoid of roe, were cooked to within a couple of seconds of underdone and served in a wave of foam, which for once was appropriate. They were delicious. One of the interesting and useful aspects of Loop is that it caters for people with food intolerances. Each dish carries a code - GF (gluten-free), DF (dairy-free) and Lchf (which I had to Google and can now reveal means low-carbohydrate, high-fat dishes, popular with dieters). I'm sure people with dietary needs are grateful for Loop's coding, which means they can order without quizzing the waiter, making a fuss and feeling like a self-indulgent food faddist.
For us it was into the main courses. The fish of the day, which was warehou rather than chef's preferred kingfish, was our most disappointing option. The fish was slightly overdone, and parts of it tasted stale and over-fishy, though our pescatarian did enjoy the profusion of garden vegetables that accompanied it. Meanwhile, Brian was delighted with his aromatic pork bun. A true Asian fusion ensemble, the bun was more of a wrap containing tasty spiced minced pork, accompanied by sliced, pan-fried pork scotch fillet and again a medley of varied and interesting vegetables.
My daube of beef was tender to the point where the fat and gristle melted into the meat as, I've realised, only truly happens when it's cooked "sous vide". This was a stunner, layer upon layer of tender, delectable meat in a delicious gravy, which I shared with our friend eating the rolled aubergine and mushroom vegetarian option. Although she enjoyed her dish, it was not as hearty as our other choices. She would have preferred more nuts and protein-rich components - but then bumping up the size of the pine nut puree which accompanied the aubergine would have put Loop out of business at current prices.
Desserts were excellent, too. The raspberry sorbet was the best dairy-free sorbet I've ever eaten. The pumpkin pecan pie was excellent, the chocolate terrine superb and the creme brulee pretty fine, too.
Overall, Loop is the perfect restaurant for couples looking for a romantic night out and groups of friends who really want to talk to each other. There's plenty of room. The background music is so quiet I can't even remember it. You can hear each other speak.
The service is swift and friendly. Throughout the evening our water glasses were topped up, our every inquiry answered, the food is hearty and (except for the fish) innovatively thought-out and cooked. Possibly the only problem is a lack of the lift-off you get with those rowdy, over-full restaurants round town full of enthusiasm and excitement, but that's small price to pay when the food, wine and service are good as they are at Loop.
Our meal: $253 for three glasses of wine and four entrees, main courses and desserts.
Wine list: Reasonably short, but offering wines from round the world to meet every taste. Chosen and handled by an expert wine waiter.
Verdict: The perfect neighbourhood restaurant for those lucky enough to live in Kingsland - and well worth the trip for others. Expertly prepared, cooked and served nouvelle cuisine-style cooking that moves effortlessly between French, New York and Asian styles. Servings are generous, dietary needs catered for.