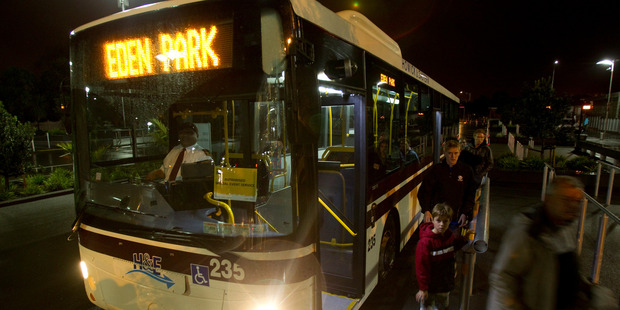 Aucklanders could be issued with an arts passport that includes reduced travel costs to arts and cultures events in the city.
Free public transport to sports events at Eden Park and big concerts like Bruce Springsteen at Mt Smart Stadium are already included in the ticket price. Now the council is investigating an arts passport to encourage more people to soak up the city's thriving arts and culture scene.
Free public transport to and from Eden Park, particularly since the 2011 Rugby World Cup, has proved a huge success. At the NRL Nines at Eden Park in February, 56 per cent of spectators used public transport over the two-day event. The cost of free travel to and from Eden Park is shared between the event organiser and Auckland Transport.
Lester McGrath, the general manager of Auckland Theatre Company, said anything that deals with barriers to move people easily around the city to arts and other events was worth looking at.
"If we do it for sports events and other things that are attractions across the city then that would be great," he said.
Auckland Art Gallery director Rhana Devenport said an arts passport was a small initiative that could have big ramifications, particularly for an outreach programme that focused on people who had difficulty coming to the gallery.
"Transport is our biggest issue. Even for those who drive we don't have parking," said Ms Devenport.
Last week, the Herald reported that people attending shows in central Auckland were being charged at parking buildings up to $25 for night-time services that are usually delivered for between $8 and $12.
A council spokeswoman said the arts passport was just a concept. She said the council had not entered any formal arrangements with arts and culture providers to be part of a programme.
The passport has been floated in a draft arts and culture strategic action plan, which is open for public consultation until July 24.
Arts, culture and events committee chairman Alf Filipaina said the plan aimed to deliver on the Auckland Plan vision to "integrate arts and culture into our everyday lives".
Among the goals in the plan are to meet the challenges of Auckland's continued growth and changing demographics.
The Ministry for Culture and Heritage, Creative New Zealand and Creative Coalition, ASB Community Trust, Independent Maori Statutory Board and Pacific People Advisory Panel have helped to develop the draft plan.
To see the plan and obtain an online submission form go to www. shapeauckland.co.nz