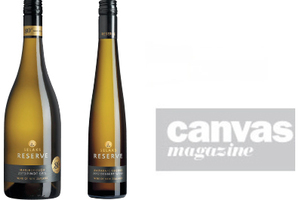 Founded in 1934 by Marino Selak, the Selaks brand stands proud among the courageous early Croatian immigrants who were pivotal in the development of the New Zealand wine industry. Happy 80th, Selaks. Thanks for the memories and those yet to come.
Selaks Reserve Hawkes Bay Merlot Cabernet - 2013
Predominantly merlot (90 per cent) with cabernet contributing the remaining 10 per cent. Cabernet provides a touch of grunt, structure and backbone and the merlot delivers a soft, velvety richness. Loads of plum and blackberry with a dose of spice and oak. Great with lamb shanks.
$17
Selaks Reserve Marlborough Pinot Gris - 2013
This is the perfect choice to complement a pork dish, especially if accompanied by apple sauce. A wine bursting with aromas of pears, apples, melon, honey, quince and a medley of spices. The grapes were grown in Marlborough's Awatere Valley and this has oodles of tropical fruit characteristics. Fresh, bright, breezy, clean and lean.
$17
Selaks Reserve Waipara Gisborne Dessert Wine - 2012
An inspired blend of aromatic varietals riesling and gewurztraminer for a burst of citrus sharpness, which is able to cut through aged cheeses or calorie-enriched creamy puddings.
The riesling (56 per cent) is from Waipara and the gewurztraminer (44 per cent) from Gisborne, our premier place for this varietal. Overall, a sweet, spicy and
concentrated wine.
$17

Available at heraldwine.co.nz for a limited time, courtesy of Glengarry and GrabOne Bottle.